Overview
The R15-EC card provides the highest level of performance and density for MIL-STD-1553A/B in an ExpressCard form factor. The R15-EC card provides 1 or 2 channels integrated with powerful API software that provides instant access to all 1553 databus functionality and data. Standard features include real-time bus playback (with ability to edit out RTs), aperiodic message insertion, error injection/detection, conditional BC branching, 64-bit, 25 nanosecond message timetagging, and "Oneshot" BC operation. The Bus Monitor mode provides 100% bus monitoring of a fully loaded 1553 bus. IRIG-B Receiver (AM or DC/TTL) Generator (DC/TTL) optionally available.
The Abaco Systems MIL-STD-1553 product line is significantly enhanced to meet the varying requirements of end users. The internal MIL-STD-1553 Local Processing Unit (LPU) has undergone a major update to improve and expand performance, functionality and modularity.  The LPU version is 4.XX or 5.XX (V4/V5) on legacy firmware and version 6.XX (V6) on the new enhanced firmware. In addition to these LPU improvements, multiple other changes were added to enhance firmware and software modularity across multiple platforms.
V6 firmware is highly recommended for all new developments. Previous V4/V5 firmware has been deprecated and will no longer be actively developed but will continue to be supported.  Any future 1553 product features or enhancements will only be developed for the V6 firmware.
Using V6 firmware will require updating to BusTools/1553-API version 8.x or later.
Software Support
High-level API for Windows®, VxWorks® and Linux included (contact the factory for supported operating system versions)
Environmental options
Input/Output Triggering
BC & RT link list structures
1 Mbyte RAM per channel
Transformer coupling
Two bi-directional discretes
BC & RT error injection/detection
Optional IRIG-B synchronization In/Out (AM or DC/TTL)
Architecture
Multiple monitoring methods
64-bit, 25 ns message timetagging
Adv. interrupts and triggers
Full error detection
Programmable response time
Bus Monitor – BM
Automatic Mode Code and status bit responses
Multiple RT buffers
RT data wrapping
Two aperiodic messaging methods
Remote Terminal – RT
Major/Minor frames
Real-time conditional branching
Programmable time delays
Mode Codes, Broadcast and single-shot messaging
BC->RT, RT->BC, RT->RT
Bus Controller – BC
Multi-function or Dual-function Configurations
1 or 2 Independent MIL-STD-1553 DualRedundant Channels
Source code included
BusTools Analyzer supported

WindRiver.gif
Specifications
Application
Notebook Portable
Request A Quote
R15-EC Interface
R15-EC RoHS Dual Port MIL-STD-1553 ExpressCard Interface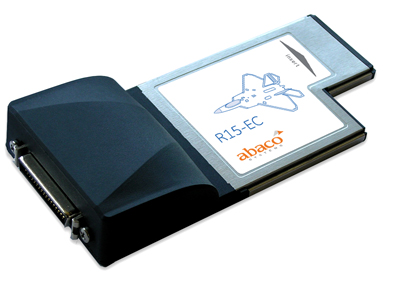 Contact An Expert
Looking for help with
R15-EC Interface
R15-EC RoHS Dual Port MIL-STD-1553 ExpressCard Interface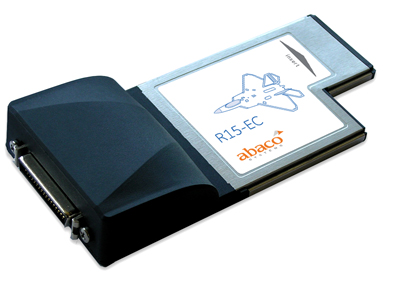 Get Support
Looking for help with
R15-EC Interface
R15-EC RoHS Dual Port MIL-STD-1553 ExpressCard Interface