GRA110
G73 Graphics Processing Unit
We recommend the following alternative solutions: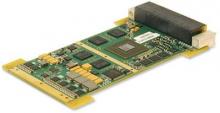 The GRA112 enables high-performance computing and visualization applications in SWaP-constrained, rugged environment
Learn More
Overview
The GRA110 is the first graphics board to be announced in the 3U VPX form factor. Bringing desktop performance to the rugged market, the GRA110 represents a step change in capability for the embedded systems integrator. With outstanding functionality, together with PCI Express interconnect, even the most demanding applications can now be deployed wtih incredible fidelity. The VPX form factor allows for high speed PCI Express connections to single board computers in the system. The GRA110 supports the 16-lane PCI Express implementation, providing the maximum available communication bandwidth to a CPU such as our SBC340. The PCI Express link will automatically adapt to the active number of lanes available, and so will work with single board computers in 8- and 4-lane configurations. With a rich set of I/O, the GRA110 is designed to serve many of the most common video applications. Dual, independent channels mean that it is capable of driving RGB analog component video, digital DVI 1.0, and RS170, NTSC or PAL standards. In addition, the GRA110's video input capability allows integration of sensor data using RS170, NTSC or PAL.

Air-cooled and rugged conduction-cooled variants
DVI 1.0 digital video output
RS170, NTSC and PAL video input
Two independent output channels
VESA output resolutions to 1600x1200
256 Mbytes DDR SDRAM
Leading OpenGL performance
Nvidia G73 GPU
For Ruggedization Levels, please see the configuration guide under the downloads tab
Specifications
Extended Temperature Range
Yes

PLM Program