XtraPower PPCM2
6U VME Dual Power Architecture 7448
We recommend the following alternative solutions: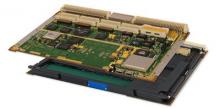 The PPC10A offers 8-core processing power in the same power envelope as previous dual core boards.
Learn More
Overview
PPCM2 6U VME SBC features enhanced high bandwidth inter-board communications via 2eSST VME and onboard StarFabric. This single board computer is ideal for a wide range of high performance computing, real-time applications. Each compute node features the Power Architecture 7448 processor and Discovery III Integrated System Controller supporting high capacity DDR SDRAM , Flash memory and NVRAM. In addition each node supports its own dedicated I/O resources including GPIO, Serial and Gigabit Ethernet plus its own PCI-X-capable PMC. Shared resources include further GPIO and USB 2.0 plus 2eSST VME and two StarFabric ports.
Five ruggedization levels, air- and conduction-cooled
6U VME SBC
Two independent processor nodes
2x Freescale Power Architecture 7448 @ 1.4 GHz
2x PMC slots
For Ruggedization Levels, please see the configuration guide under the downloads tab
P0P2X600 Rear Transition Module
Specifications
Processor
Dual 7448 @ 1.4 GHz
Maximum Memory
2x 1 GB DDR SDRAM with ECC
Transition Modules
P0P2X600
Bus Interface Chip
Tundra Tsi148
Ethernet
Gigabit Ethernet
Ruggedization
Level 1-5 Air, Conduction Cooled
Accessories
P0P2X600 - This accessory is no longer recommended. See below for newer designs.
P25X606G - P2 Rear Transition Module (RTM) for PPCx series cards.
P09AIO-11 - Module is a customised interface adapter, compatible with Type B P0 connectors. It fits directly onto the rear P0 position of the backplane and is suitable for interconnection with PPC9A host processor card.

PLM Program