We recommend the following alternative solutions: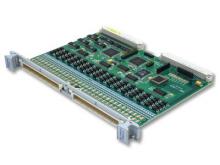 64-channel isolated digital input board with multifunctional intelligent controller
Learn More
Overview
This product is designed with standard COS control and interrupt logic that detects any COS and provides an interrupt vector to the byte level. Each byte (8 bits) of input may have a unique interrupt vector that is generated upon a COS in any bit of that byte. Interrupts are generated on any COS (positive or negative transition). Polarity is determined by reading the input port after the COS interrupt. This board may be ordered with positive or negative true data.

Supports 8- or 16-bit transfers
High isolation, 1,000 V sustained, 7,500 V pulsed
Jumper-selectable nonprivileged or supervisory short I/O transfers
Filtered input debouncing option
High reliability DIN-type input connector
5, 12, 24, and 48 V input option
Wide variety of input signal conditioning
Contact sense or voltage source options
COS interrupts
Specifications
I/O Voltage Range
5 to 48 VDC
Accessories
VME-000-94-xxx IDC 64pin ITW Pancon 120-964-435 Cable