We recommend the following alternative solutions: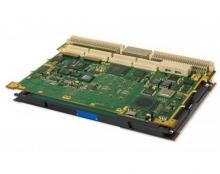 Upgrade existing lower-powered programs with dual core P2020 Power Architecture-based single board computer from Abaco Systems.
Learn More
Overview
PPC7A is a single board computer (SBC) offering high performance computing with a choice of PowerPC processors and two PMC sites via 64-bit 66 MHz PCI that provide access to further incremental system expansion if required. PPC7A is fully supported by a comprehensive range software products including our Deployed Test modules (BIT [built- in test] and BCS [background condition screening]), plus support for VxWorks and VxWorks6 from Wind River Systems, LynxOS from LynuxWorks, and INTEGRITY from Green Hills Software Inc.
Five ruggedization levels, air- and conduction-cooled
6U VME SBC
Up to 512 MB SDRAM
Freescale 7410 or 7457 up to 1.1 GHz
2x PMC slots
For Ruggedization Levels, please see the configuration guide under the downloads tab
Specifications
Maximum Memory
512 MB SDRAM with ECC
Transition Modules
P25X606G
Bus Interface Chip
Tundra Universe IID
Ruggedization
Level 1-5 Air, Conduction Cooled
Accessories
P25X606G11200-X - P2 Rear Transition Module (RTM) for PPCx series cards (ERNI Connector) with 2x USB 2.0 sockets (RoHS)

PLM Program