PowerXtreme PPC4A
6U VME Power Architecture 755/7410
We recommend the following alternative solutions: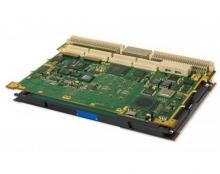 Upgrade existing lower-powered programs with dual core P2020 Power Architecture-based single board computer from Abaco Systems.
Learn More
Overview
The PPC4A COTS 6U VME64 single board computer (SBC) offers high performance computing, Power Architecture processors combined with the same rich feature set of the Power Reference Platform (PReP) architecture. PPC4A VME SBC supports SDRAM on a fast 100 MHz memory bus, for maximum performance. Five ruggedization levels in both air- and conduction-cooled form factors, make PPC4A the clear choice for systems integrators and defense OEMs serving the market for leading edge naval, land-based and airborne embedded rugged computing platforms.
Five ruggedization levels, air- and conduction-cooled
6U VME SBC
Up to 512 MB SDRAM with ECC
Freescale Power Architecture 755/7410 up to 500 MHz
2x PMC slots
For Ruggedization Levels, please see the configuration guide under the downloads tab
P26X602 Rear Transition Module
Specifications
Processor
MPC755 @ 400 MHz
Maximum Memory
512 MB SDRAM with ECC
Transition Modules
P26X602
Bus Interface Chip
Tundra Universe IID
Ruggedization
Level 1-5 Air, Conduction Cooled
Accessories
P25X600-S - P2 Rear Transition Module (RTM) with Ethernet 10Base5 / 10/100BaseT
P25X600-X - P2 Rear Transition Module (RTM) with Ethernet 10Base5 / 10/100BaseT, extended temperature
P25X602-S - P2 Rear Transition Module (RTM) with Ethernet 10/100BaseT only
P25X602-X - P2 Rear Transition Module (RTM) with Ethernet 10/100BaseT, extended temperature

PLM Program