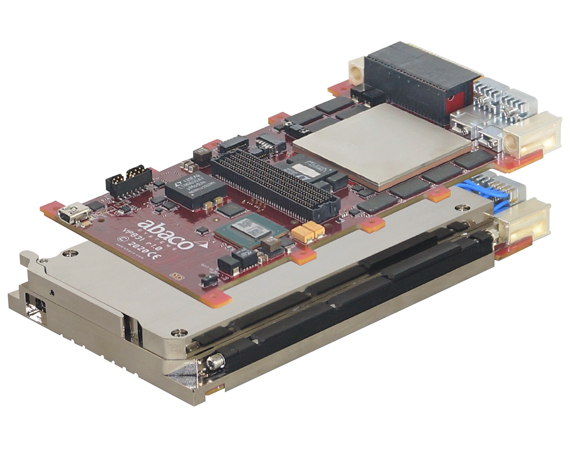 Next Generation of Industry-Leading 3U VPX FPGA Board Designed to Align With SOSA™ Technical Standard
HUNTSVILLE, Ala.— January 14, 2021 Abaco Systems, Inc. announces the VP831 as the next generation of our VP889, the industry-leading 3U VPX FPGA board now with 100G Ethernet on a design which is aligned with Sensor Open Systems Architecture™ (SOSA) technical standard. This release provides our customers with an upgrade path to the latest technology, providing more bandwidth and increased processing capabilities at a lower power and size, ready to perform in the harshest of environments. The VP831 is built on our decades of experience with high performance digital and analog systems to deliver quality in a system you can trust.
With upgrades to the underlying technology including embedded ARM cores within the Zynq Ultrascale+ system-on-chip, which reduces power consumption, size, and cost, as well as brings advanced security to the forefront. The VP831 is built to perform in the harshest of environments. It comes with a fully featured open-board support package giving customers a high-level reference design example to simplify integration of application specific IP and reduce risks of a program integration. This product delivers on the promise of a migration path from the VP881 to the VP889.  By adhering to industry standards, users can upgrade their systems without a full system redesign, including future technology not yet available on the market.
Serving as a SOSA™ standard aligned variant of the VP889, the VP831 is the most capable embedded FPGA computing solution in a 3U VPX form factor, bringing flexible, powerful, rugged sensor processing and I/O technology. Military and aerospace, and commercial programs require the latest in I/O and signal processing technology at an affordable cost and with predictable timelines. With the latest FPGA chipset, configurable serial interface options and embedded multiprocessor system-on-chip (MPSoC), the VP831 demonstrates Abaco's commitment to delivering rugged COTS hardware thus helping our customers overcome their most demanding application challenges.
Pete Thompson, VP of product management for Abaco Systems, Inc. said, "Abaco is committed to delivering a quality, off-the-shelf capability ensuring the success of mission critical applications now and throughout the lifetime of the program. Our commitment to innovation is exemplified with the VP831, which will be beneficial in a wide range of military/aerospace and commercial applications such as communications, sensor processing, radar, and electronic warfare just to name a few. We are thrilled to add another product to our portfolio which is aligned with SOSA™ technical standards to deliver our customers the solutions they need to succeed."
Technical Overview
About Abaco Systems
With more than 30 years' experience, Abaco Systems is a global leader in open architecture computing and electronic systems for aerospace, defense, and industrial applications. We create innovative, modular solutions based on open standards that are characterized by outstanding price/performance, ultimate rugged reliability, and minimal SWaP. Our goal is to be a significant contributor to our customers' success, partnering with them to reduce cost, time-to-deployment and risk and supporting them over the long term.  With an active presence in hundreds of national asset platforms on land, sea and in the air, Abaco Systems is trusted where it matters most. www.abaco.com
For more information, contact:
Alisa Coffey
Head of Marketing
Abaco Systems