SCVPX6U
6U OpenVPX development chassis, 19" rack-mountable 4-slot starter cage.
We recommend the following alternative solutions: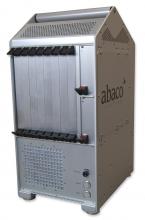 The SCVPX6U-4 comprises a four slot VPX backplane, card cage, PSU, cooling fans, provision for auxiliary storage and all internal power wiring.
Learn More
Overview
The 6U OpenVPX Starter chassis is a rack mountable lab chassis designed to support fast prototyping of multi-board 6U OpenVPX systems. It includes a 4-slot uncommitted backplane, ATX power supply, four hard disk drives and variable speed fans. Each pay load slot is routed to a dedicated fabric interface routing the P1 data, and P2 expansion planes to rear transition modules. In addition, each pay load slot provides a direct interface to the P3 to P6 user I/O of the processor card via its own rear transition module.
This innovative concept enables a variety of multi-board / multi-node processor configurations during system design and applications development. The system integrator can now define and demonstrate multiple architectures with Abaco Systems' deployable COTS boards to identify optimal configurations before making hard decisions about the SWaP profile of the final platform.
The development chassis can accomodate a range of Abaco Systems' COTS processor and I/O modules, including our latest OpenVPX Intel, NVIDIA and high speed fabric switch cards. The chassis has been included in several product bundles such as our integrated 6U OpenVPX CUDA Starter Kit.
4 slot 6U OpenVPX chassis with uncommitted backplane
Four rotary hard disk drives
ATX power supply
Variable speed cooling fans
Specifications
Ruggedization
Level 1 Std. Air Cooled
Accessories
FABRTMP1 - Fabric Rear Transition Module (RTM)