SBC3511 3U VPX SBC
Rugged Single Board Computer aligned with CMOSS and SOSA standards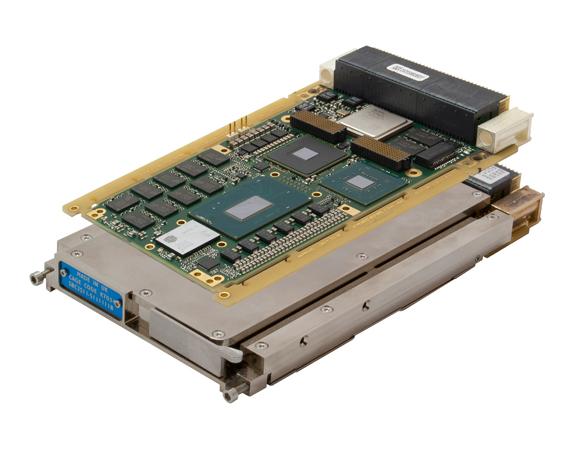 Overview
High performance and alignment with SOSA, CMOSS
The SBC3511 is based on the new, highly integrated Intel® Xeon® E-2276ME 6-core/12-thread processor ('Coffee Lake Refresh') which operates at 2.8 GHz with TurboBoost up to 4.5 GHz, 64 GB of DDR4 RAM and the inclusion of up to 256 GB of NVMe SSD, providing increased platform performance and throughput. It features a 40 Gigabit Ethernet data plane, delivering not only a high speed interconnect but also compatibility with an OpenVPX payload profile, to which SOSA, CMOSS and HOST are all aligned. In addition, the SBC3511's IPMI subsystem has been upgraded to allow operation from 3.3V AUX power only, further enhancing its alignment with the SOSA standard.
Designed for optimum security
The SBC3511 incorporates a range of security features that include an inherently secure FPGA solution (Xilinx® Zynq® UltraScale+™), and support for Intel's Trusted Execution Technology. The FPGA can be utilized to instantiate a range of Abaco defined security features. Customers who wish to embed their own application specific features, can also be supported. Contact factory for details.
Innovative thermal management
The SBC3511 features a unique thermal management design which allows deterministic high performance even at the extended temperatures typical of deployment on space-constrained platforms in combat zones. This is in contrast to less efficient thermal management designs that see a processor's performance throttled back at high temperatures.
Powerful hardware made stronger by game-changing software
Knowing your weak points is the foundation of strength, because you can't correct what you don't measure. The SBC3511 can also be supported with one or more elements of the Abaco software suite, including PBIT for early monitoring and reporting; CIBIT for non-intrusive ongoing and on-demand monitoring and reporting; and Health Toolkit, which acts as a system monitor to collect and report the health of all elements in the system, thanks to the VITA46.11 tier 1 and tier 2 interface over IPMI. All are fully compatible with the most widely-used operating systems and applications for industrial and defense deployments.
Specifications
Processor
Intel Xeon E-2276ME
Maximum Memory
32 GB DDR4 SDRAM soldered with ECC
I/O
DisplayPort, GPIO, SATA, Serial, USB
FPGA Resources
Xilinx Zynq UltraScale+
Other
40 GbE data plane; aligned with the SOSA technical standard
Management Plane
IPMI (Baseboard Man. Controller)
Maximum Storage
256 GB NVMe SSD
Ruggedization
Level 1,4,5 Air and Conduction cooled
FPGA Family
Zynq Ultrascale+

Intel ISA
Technology: insert or preserve?
One of the aspects of defense programs that is different is their longevity. That has significant implications for the technology that's at their heart. Here, we look at the options available to maximize a platform's viability well into the future.
Achieving Reliability to Match Capability
Maximizing system reliability in military embedded computing is an imperative. Here, we describe the Health Toolkit, the first commercial solution designed to provide the insight that can support that goal.
10 SBC questions to ask
Not all single board computers are created equal. Find out more about how your current supplier's offering compares with Abaco's.
Security
Sensitive applications need secure hardware platforms. That's why we build in tamper-resistance, secure boot, memory sanitization and Intel Trusted Execution Technology.