Overview
Looking for XMC module? Click here.
ARINC 429 Message Handling
On-board firmware, large data buffers, and a high-level API are integrated to provide total flexibility in monitoring and generating ARINC bus traffic. Simultaneous scheduled and burst mode (FIFO) messaging is supported on all ARINC 429 transmit channels. Each ARINC 429 receive channel provides simultaneous dedicated and buffered mode storage, along with label/SDI filtering.
Three different methods are provided to buffer received messages:
Buffered mod­­­­e utilizes a separate circular buffer for each channel.
Merged mode combines all received messages into a single, time-sequenced circular buffer
Dedicated mode provides a snapshot of the latest message by label or label+SDI
ARINC 429 Architecture
The RAR15XF-TB features include independent, software programmable data rates and parity, error detection error injection. All channels operate independently.
MIL-STD-1553 Multi-function Interface
RAR15XF-TB multi-function interfaces are easily configured to operate with simultaneous bus controller, up to 31 remote terminals and bus monitor functionality.
MIL-STD-1553 Dual-function Interface
Dual-function RAR15XF-TB interfaces have all the features of the multi-function versions, with either bus monitor and bus controller or bus monitor and 31 remote terminals.
Specifications
Form Factor
Thunderbolt 3
Application
Lab, Simulation, Test, Portable
# ARINC Channels
10 Receive, 4-8 Bi-directional
Other
IRIG, dual/multi-function operating mode
Protocol
ARINC 429, MIL-STD-1553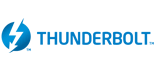 thunderbolt
Thunderbolt 3: a path forward for avionics data bus interfaces and Abaco's ARINC 615-3 data loader
Engineers using avionics data bus interfaces and data loaders are facing a growing problem: the demise of the PCMCIA and ExpressCard interfaces, and the inadequacy of USB as an alternative. There is, however, a way forward.
Avionics
Abaco provides extensive, in-depth support to avionics designers with a broad and deep line of avionics interfaces, test platforms, tools and software.