EmPower EP2A VME SBC
Combining Power Architecture processing and a unique set of I/O to perform in demanding embedded computing applications.
We recommend the following alternative solutions: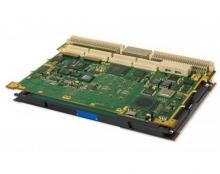 Upgrade existing lower-powered programs with dual core P2020 Power Architecture-based single board computer from Abaco Systems.
Learn More
Unique and highly flexible solution
The EP2A 6U VME SBC features a processor node with the Discovery V integrated system controller and a Power Architecture 7448 processor, in combination with a unique and highly flexible set of I/O features to provide high performance computing in numerous rugged computing applications. In addition to standard SBC capabilities, the EP2A features four fast HDLC-capable serial channels to make this single board computer ideal for many communications-oriented embedded applications.
Add custom functionality
The EP2A's AFIX site supports a range of useful plug-ins including dual MIL-STD-1553B interfaces, SCSI, graphics and Flash memory modules. The AFIX site is also a useful option to add custom functionality at minimum cost and in minimum time.
Rugged by design
Available in five air- and conduction-cooled build levels to provide rugged computing, the EP2A is fully supported by comprehensive Deployed Test Software (BIT and BCS) and BSPs for VxWorks from Wind River Systems, LynxOS from LynuxWorks and INTEGRITY from Green Hills Software.
Specifications
Maximum Memory
1 GB DDR SDRAM with ECC
Transition Modules
P0P2X602
Bus Interface Chip
Tundra Tsi148
Ethernet
Gigabit Ethernet
Other
AFIX site; 2eSST VMEbus, AXIS Support
Ruggedization
Level 1-5 Air, Conduction Cooled
Accessories
LLast-Time-Buy Announced for August 31, 2015 for the P0P2X602 - Module is a customised combined P0 and P2 interface adapter. It is compatible with 5-row VME backplanes in the P2 position and with Type B connectors in the P0 position. The P0P2X602 fits directly onto the rear P0/P2 position of the backplane and is suitable exclusively for interconnection with the EP2A board.
Replacement transition module: P25X606D-12200 - P2 Rear Transition Module (RTM) for PPCx series cards (ERNI Connector) with AFIX I/O header
Replacement transition module: P25X606G11200-X - P2 Rear Transition Module (RTM) for PPCx series cards (ERNI Connector) with 2x USB 2.0 sockets (RoHS)

PLM Program