CEI-600
CEI-600 Modular Avionics Interface for CompactPCI
We recommend the following alternative solutions:
RAR-cPCI RoHS Compliant, High Density Intelligent ARINC Interface for cPCI
Learn More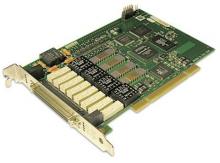 The QPCX-1553 provides new levels of performance and flexibility for MIL-STD-1553A/B Notice II for the PCI backplane form factor.
Learn More
Overview
The CEI-600 is a flexible and space-saving modular solution for interfacing to ARINC 429 and other avionics databuses for a CompactPCI platform. The CEI-600 includes high-level API support for 32-bit Windows 7, Vista, XP, and LabWindows/CVI for ARINC 429, 573, 708, 717, CSDB, RS-232, RS-422, RS-485 and other avionics protocols. Contact Abaco Systems about other operating environments.
(ARINC 429, ARINC 708, RS-422, etc.)
Mix multiple protocols on the same board
OS support for 32-bit Windows 7, Vista and XP
3U and 6U CompactPCI configurations, PXI compatible
Up to 64 ARINC 429 channels per board (32 Rx and 32 Tx maximum)
Optional support for LabVIEW
Specifications
Application
Lab, Simulation, Test

ARINC