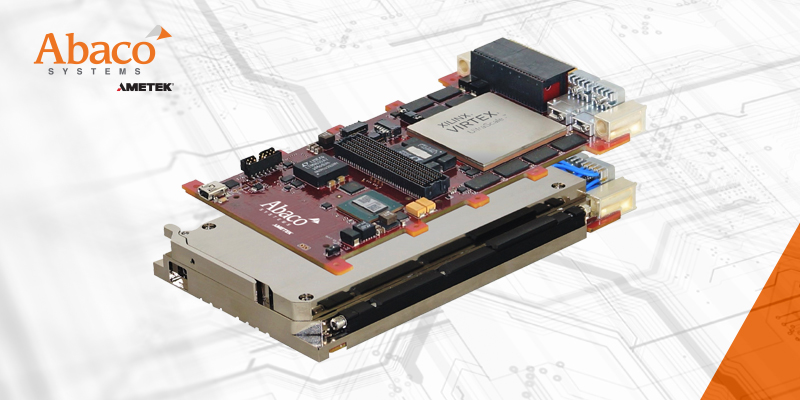 WASHINGTON — October 10, 2022  AMETEK Abaco Systems introduced its VP891 3U VPX FPGA carrier card aligned with the Sensor Open Systems Architecture™ (SOSA) technical standard at the AUSA Annual Meeting and Exposition. Built around the powerful Virtex® UltraScale+™ FPGA from Xilinx, the VP891 delivers high performance and configurability while embracing open standards for a true COTS solution.   
Available air-cooled and conduction-cooled, the rugged VP891 is designed to reliably operate in some of the harshest environments and applications, including electronic warfare, radar, DRFM, telecommunication base stations, semiconductor manufacturing equipment, autonomous vehicles, renewable energy stations, and more.  
The FMC+ connector accommodates multiple flexible high-speed RF and digital I/O through the broad Abaco FMC product portfolio. The SOSA-aligned backplane supports 100GbE for rapid data exchanges between the Virtex and other cards in the chassis, including multiple VP891s. Optional MORA, VITA 49.2, REDHAWK or GNU Radio support is available. 
"The VP891 card delivers the open benefits of SOSA alignment, powerful 100GbE performance, and FPGA flexibility all in a single 3U VPX board," said Mike Underwood, Abaco division vice president and business unit manager. "It provides users an efficient way to protect their investments and provides an easy path to rapidly upgrade to emerging technologies."  
About Abaco Systems 
Abaco Systems is a global leader in commercial open architecture computing and rugged embedded electronics. With more than 30 years of experience in aerospace & defense, industrial, energy, medical, communications and other critical sectors, Abaco's innovative solutions align with open standards to accelerate customer success.  
Abaco Systems is a business unit of AMETEK, Inc., a leading global manufacturer of electronic instruments and electromechanical devices with 2021 sales of more than $5.5 billion. 
For more information, contact: 
Rich Mintz 
Global Marketing Director 
Abaco Systems | AMETEK 
richard.minz@ametek.com