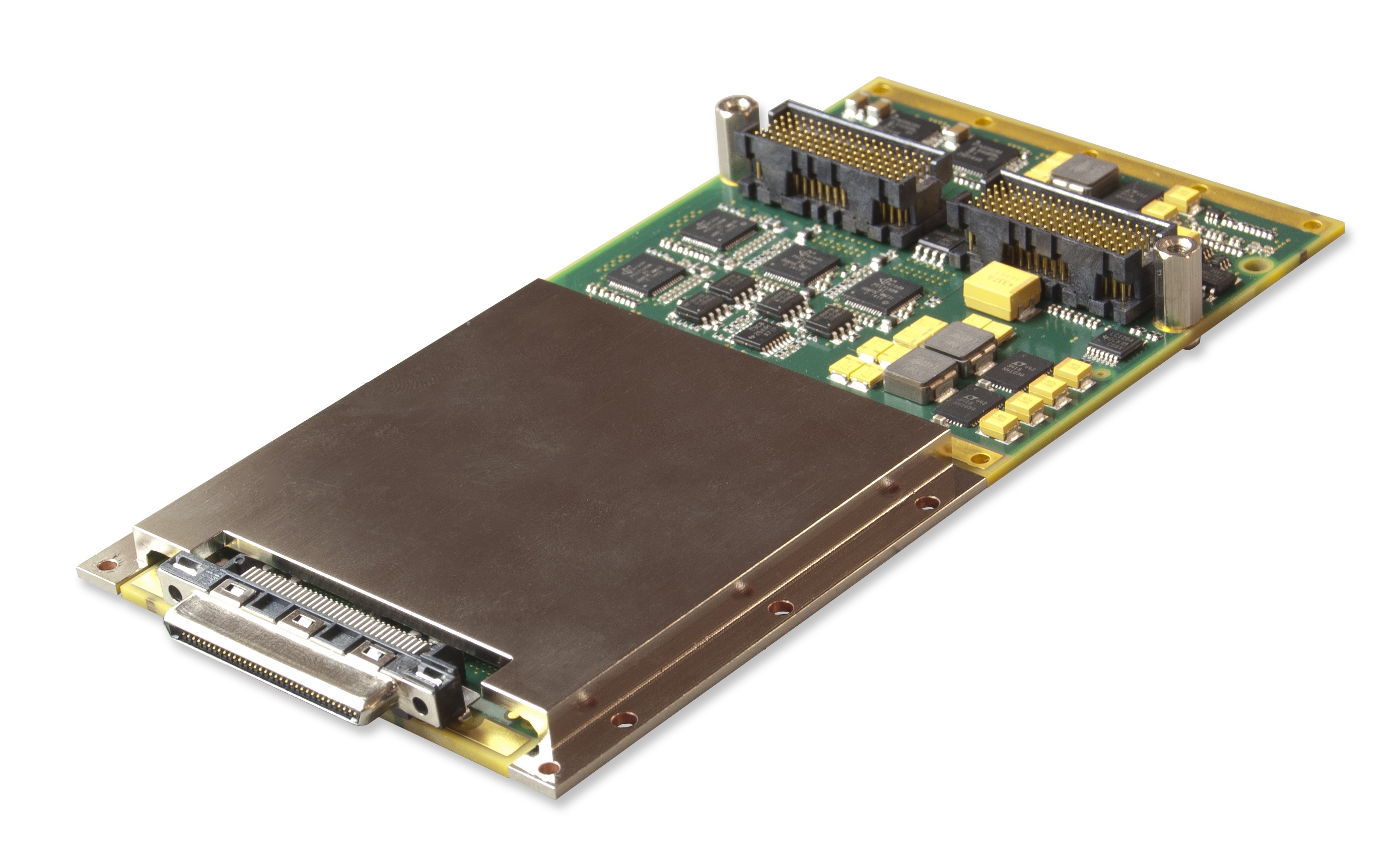 HUNTSVILLE, Ala.— April 13, 2016  Abaco Systems today announced the XMCGA8 XMC High Performance Graphics Board. Designed for customers requiring the ability to deliver safety-critical applications certified to DO-178 and DO-254 with long term support, it can provide an industry-leading four DVI ports, giving the XMCGA8 unique flexibility.
The VITA 42-compliant XMCGA8 is available with the AMD/CoreAVI Radeon E8860 'Adelaar' graphics processing unit, enabling it to deliver twice the graphics throughput of its predecessor, the XMCGA7 for which it represents a highly cost-effective upgrade that can deliver twice the performance/slot of its predecessor.
The XMCGA8's leadership is reinforced by its minimal TDP (thermal design power).
The CoreAVI chip set features parts that have been temperature screened and qualified, and is supported by the necessary low level operating system graphics drivers (OpenGL) for VxWorks® 6.9 and VxWorks 653 safety-critical applications. The chip set will be supported for up to 20 years. Certifiable artifacts will be available from CoreAVI that can support a DAL A system design, potentially making the development of such systems more affordable.
Windows® and Linux® support are also provided.
The XMCGA8's superior graphics processing capability makes it ideal for demanding applications such as video stitching and sensor fusion in wide area surveillance applications, allowing the incorporation of data from multiple sensor types to build a complete picture of a large geographical area, delivering increased situational awareness and context.
As well as being capable of supporting demanding graphical applications, the XMCGA8 can also be deployed as a GPGPU (general purpose computing on a graphics processing unit) platform for applications such as ISR (intelligence, surveillance, reconnaissance), radar and sonar.
"Our customers are developing ever-smaller vehicles that are constrained in space and power, and that must support a mix of display resolutions and standards - and that leads to the requirement for graphics processing and video output solutions that are more compact and more flexible," said Chris Lever, VP, Product Management at Abaco Systems. "The XMCGA8 fulfils their needs by offering a range of video output options while significantly increasing the performance per slot and managing power usage. It allows them to do more with less."
The XMCGA8 can provide up to four DVI outputs at resolutions up to 1,920 x 1,200 at 60Hz and up to two VESA VGA outputs at the same resolutions. It is available in a range of configurations and can be air- or conduction-cooled. A VITA 61 variant is also available.
For more information:
Datasheet: https://www.abaco.com/download/xmcga8-datasheet
Product page: https://www.abaco.com/products/xmcga8-xmc-graphics-board
About Abaco Systems
Abaco Systems is a global leader in open architecture computing and electronic systems for aerospace, defense and industrial applications. Spun out of General Electric in 2015, we deliver and support open modular solutions developed to upgrade and enhance the growing data, analytics, communications and sensor processing capabilities of our target applications. This, together with our 700+ professionals' unwavering focus on our customers' success, reduces program cost and risk, allows technology insertion with affordable readiness and enables platforms to successfully reach deployment sooner and with a lower total cost of ownership. With an active presence in a significant number of national asset platforms on land, sea and in the air, Abaco Systems is trusted where it matters most. www.abaco.com
For more information, contact:
Ian McMurray
Communications Manager
Abaco Systems
Windows is a registered trademark of Microsoft Corporation. Linux is the registered trademark of Linus Torvalds. VxWorks is a registered trademark of Wind River Systems. Radeon is a trademark of AMD. All other trademarks are the property of their respective owners.