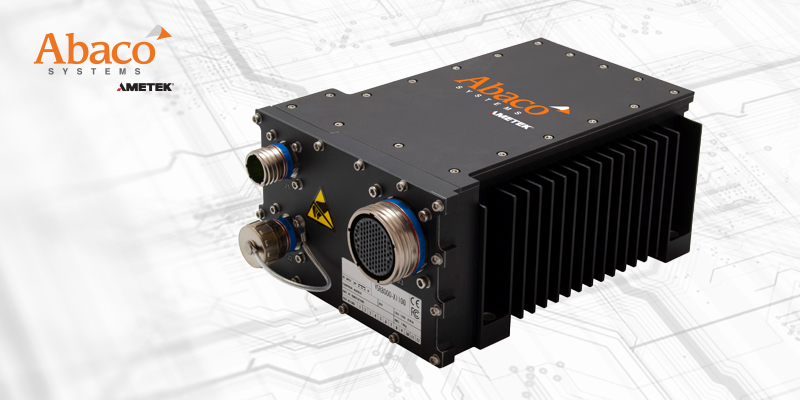 FARNBOROUGH, England (July 18, 2022) -- Today, at the Farnborough International Airshow, AMETEK Abaco Systems introduced the VSR8000, a fully rugged secure router featuring Juniper Networks® Junos® vSRX Virtual Firewall. This provides a commercial off-the-shelf (COTS) line replaceable unit (LRU) version of the recently launched 3U VPX VSR347D. This fully ruggedized secure router is a clear indicator of Abaco's commitment to offering a full networking solution. The VSR8000 utilizes vSRX from Juniper Network in a fully rugged and SWaP optimized package to offer the only fully rugged solution on the market.
Abaco has taken its proven SBC347D single board computer (SBC), added an efficient, high-performance software environment, and integrated it into a fully rugged package that meets a wide range of MIL-STD qualifications including MIL-STD-810H for rain, sand, and salt fog. The VSR8000 combines Abaco's knowledge and expertise with SBCs, networking, and rugged LRU systems into a market-leading rugged secure router. Designed to ease the transition from the RTR8GE, the VSR8000 saves on both time and cost for customers.
Acting as a drop-in replacement for the RTR8GE, this router's combination of updated software, identical interfaces, and mechanical mounting points provides flexibility by offering the right options for legacy architectures. The software architecture provides a plan to overcome obsolescence and provides for the next generation of SBCs and other form factors using an x86 architecture processor.
With eight ports of 1000BASE-T, users can connect to multiple networks and devices while maintaining a high level of security for each one. The VSR8000 acts as an essential gateway between the outside world and local networks to keep intruders out and data secured. It is ideal for both new and existing users looking for a secure router system.
With high levels of environmental qualifications, it meets extreme demands presented by altitude, decompression, overpressure, sand, salt fog, rain, shock, and vibration. This secure router can be utilized on a wide range of applications, including: edge of network security; command and control; electronic warfare; radar; surveillance; situational awareness; imaging; AI and autonomy; rugged industrial and transportation; and other high-performance embedded computing applications.
Pete Thompson, vice president of product management for Abaco Systems, said, "Providing hardened security in demanding environments is at the core of Abaco's commitment to innovation. The VSR8000 delivers exactly what our customers need to succeed in demanding environments by providing a fully rugged, COTS secured router. This expands our offering of secured routers, giving customers the choice between a backplane deployed board (VSR347D) or LRU (VSR8000). We are committed to providing capable and highly optimized solutions."
About Abaco Systems
Abaco Systems is a global leader in commercial open architecture computing and rugged embedded electronics. With more than 30 years of experience in aerospace & defense, industrial, energy, medical, communications and other critical sectors, Abaco's innovative solutions align with open standards to accelerate customer success.   
Abaco Systems is a business unit of AMETEK, Inc., a leading global manufacturer of electronic instruments and electromechanical devices with 2021 sales of more than $5.5 billion. 
For more information, contact:
Rich Mintz
Global Marketing Director
Abaco Systems | AMETEK