We recommend the following alternative solutions: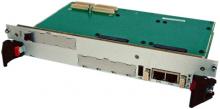 Meet the computing needs of industrial and mil/aero applications with a dual slot VME Intel-based embedded computer
Learn More
Overview
A VME Intel Pentium M Processor based single board computer with a dual slot front panel, two PMC sites and dual Gigabit Ethernet channels compliant to VITA 31.1. The VP9 is designed to meet the needs of embedded application developers addressing markets like industrial automation, medical, scientific, imaging, telecommunication, military and aerospace. The dual slot wide front panel allows designers to install two PMC modules and a hard disk or flash drive in parallel. This compact all-in-one CPU module is very well suited for I/O intensive applications. The VP9 platform is designed to support processors starting with 1 GHz up to 1.8 GHz. It offers low power consumption and eliminates the need for on-board fans. The design is ready to accept future higher performance Intel Pentium M processor versions.
Intel Pentium M Processor, 1 GHz to 1.8 GHz
Two Gigabit Ethernet ports 10/100/1000BaseT front or rear panel optional
Offers dual slot implementation for extended front I/O functionality
RoHS compliant with version 3.x
256-bit 3D and 2D graphics accelerator
VITA 31.1 compliant
Specifications
Maximum Memory
Up to 2 GB DDR SDRAM with ECC
Bus Interface Chip
Tundra Universe IID
Ethernet
Gigabit Ethernet
Ruggedization
Commercial (benign)