We recommend the following alternative solutions: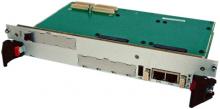 Meet the computing needs of industrial and mil/aero applications with a dual slot VME Intel-based embedded computer
Learn More
XVP14 6U VME 2nd Gen. Intel Core i7 Dual Slot SBC offers high performance computing to a wide range of applications from industrial to fully rugged defense and aerospace programs. Up to 16 GB DDR3 SDRAM, 8 GB NAND Flash, 2eSST capable, SATA, DVI, GPIO
Learn More
Overview
Based on the Intel Core Duo Processor, the Intel-based SBC is designed to support processor speed from 1.66 GHz up to 2.0 GHz. The Intel Core 2 Duo runs at 1.5 GHz. VP11 6U VME SBC is offered in a dual slot wide front panel in order to maximize front I/O functions. The VP11 provides a unique feature set, including up to 4 GB of DDR2 SDRAM (200 MHz) with enhanced ECC, four independent on-board PCI buses, support for VME64/2eSST backplane, two PMC interfaces (64-bit/133 MHz and 32-bit/33 MHz). Instead of the PMC1, a PCI Express based XMC interface is optionally available. A high level of functional integration (two Gigabit Ethernet, one Fast Ethernet, two serial interfaces (RS-232 or RS-422/485), USB 2.0, integrated HDD or Flash drive) within a single slot gives users the freedom to use the PMC interfaces for their high performance computing application specific I/O. The VGA/DVI interface is supported through a high performance 2D/3D ATI® video controller capable of driving two displays in parallel.
6U VME SBC
p to 4 GB DDR2 SDRAM w/ ECC
2x PMC expansion site, with one XMC optional
Intel Core 2 Duo @ 2.16 GHz, Intel Core Duo @ 2.0 GHz
2x Gigabit Ethernet
Specifications
Processor
Intel Core Duo @ 2.0 GHz
Maximum Memory
4 GB DDR2 SDRAM with ECC
Bus Interface Chip
Tundra Tsi148
Ethernet
Gigabit Ethernet
Ruggedization
Level 1 Std. Air Cooled

Intel ISA