Telum ASLP10
Telum ASLP10 - Processor AMC with Intel® Pentium®M Processor - Intel® E7520
We recommend the following alternative solutions: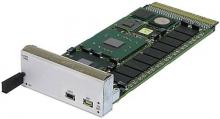 High Performance Processor AMC Module in single width, full or mid size with an integrated Intel® Core™ 2 Duo processor plus 3100 integrated controller.
Learn More
Overview
Telum ASLP10 is a single width full height processor AMC board. It is designed in compliance to AMC.0, AMC.1 Type 8 (PCI Express x8), AMC.2 Type E2 (2x Gigabit Ethernet) and AMC.3 Type S2 (2x SATA ports). The module supports Intel Pentium M processor starting from 1GHz to 2GHz with up to 2GB soldered DDR2-400 memory. Using soldered memory avoids the connector for the SODIMM or memory piggy which results in higher MTBF and better cooling.

Soldered memory for high reliability and optimized cooling
Up to 2GB DDR2-400 memory
Intel® Pentium®M Processor up to 2GHz
Compliant to AMC.0, AMC.1 (PCI Express), AMC.2 (Gigabit Ethernet) and AMC.3 (SATA)
Specifications
Processor
Intel Pentium M @ 2.0 GHz
Maximum Memory
Up to 2 GB DDR2 SDRAM with ECC