RDS10
6U VMEbus or CompactPCI Development Chassis
We recommend the following alternative solutions: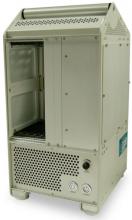 Evaluate hardware and software plus higher levels of integration, test and demonstration with VME development chassi
Learn More
Overview
Abaco Systems has taken its extensive expertise in the field of system integration and understanding of the needs of systems integrators to create the RDS10 Development Chassis. The RDS10 VME or CompactPCI Development chassis delivers the features required by systems integrators in a format designed to maximize ease of use. For example, the card cage in each enclosure is mounted horizontally, permitting a compact, manageable design; the front panel and top cover are easily removed in order to simplify access to internal cables and links; and the backplane to the rear I/O panel path is free from obstruction, allowing paddle card and interface module connections to be easily made. To support the RDS series, we offer integration services ranging from system level configuration and testing through to the realization of specific software drivers and the integration of third-party cards. As the program evolves, we provide a risk-free migration path to a wide portfolio of deployable ATR and rugged chassis designs.


For Ruggedization Levels, please see the configuration guide under the downloads tab
Front panel on/off and reset switches
Removable front access door
Country-independent auto-ranging PSU
Accepts standard Abaco Systems I/O kits and panels
Small, easily managed form factors
Internal layout optimized for rear I/O boards
Specifications
Ruggedization
Level 1 Std. Air Cooled