We recommend the following alternative solutions: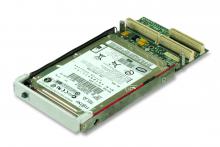 A Serial ATA (SATA) hard disk drive in the PMC form factor with up to 250 GBytes capacity.
Learn More
Overview
The PMC245 family of embedded disk modules offers a high-performance, low cost option for file system and boot storage. The PMC245 has an IDE header in the front to attach low cost IDE disks. It also routes the IDE signals to the J4 connector for the rear I/O. The PMC245 has options for both the popular 44 pins as well as the 40 pins headers for its front panel connector. In addition, card edge PCI systems can be accommodated using our PMC239 adapter for rapid prototype and development.
Slots for two CompactFlash cards
Runs under the OS File System
Bus Master DMA at 260 MB/s
Supports Utra ATA 100
Available with front panel IDE
PCI 32-bit at 33/66MHz
Two independent IDE/ATA Channels
Up to 16GB CompactFlash supported
Not recommended for new designs
Specifications
Function
Compact Flash/MicroDrive Host Adapter