PMC244
CompactFlash/MicroDrive PMC Host Bus Adapter
We recommend the following alternative solutions: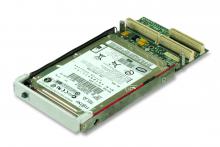 A Serial ATA (SATA) hard disk drive in the PMC form factor with up to 250 GBytes capacity.
Learn More
Overview
The PMC244 family of embedded disk modules offers a high-performance, low cost option for file system and boot storage. In addition, card edge PCI systems can be accommodated using our PMC239 adapter for rapid prototype and development.
PCI 32-bit at 33/66MHz
Available with front panel ejector or recessed
CompactFlash cards up to 8GB
Boot any OS such as Windows NT, RTOS, etc. from a single CompactFlash
CompactFlash/MicroDrive compliant
Runs under the OS File System
Not recommended for new designs
Specifications
Function
Compact Flash/MicroDrive Host Adapter