PMC243
PMC243 High Capacity Disk, PMC Form Factor
We recommend the following alternative solutions: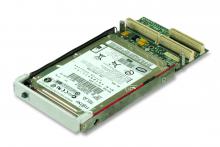 A Serial ATA (SATA) hard disk drive in the PMC form factor with up to 250 GBytes capacity.
Learn More
Overview
The PMC243 family of embedded disk modules offers a totally new, high performance, low cost option for file system and boot storage. Combining high performance controllers developed for high end workstations with disk technology used in laptops, the PMC243 embedded disk module delivers very high data rates in a compact form factor implemented with components designed for physically demanding environments. With the PMC243 "single slot", computing solutions do not need to compromise on either capacity or performance. In addition, card edge PCI systems can be accommodated using our PMC239 adapter for rapid prototype and development.
Drivers for most popular RTOS and UNIX environments
Compact and extremely rugged
Alternative to costly SCSI legacy Fast read/write performance
Rotating Media from 40GB to 80GB
PCI 32bit at 33/66Mhz
Boot and run any OS in a single slot
Not recommended for new designs
Specifications
Function
IDE Hard Disk Adapter
Capacity
Up to 120GB Rotating; Up to 32GB Solid State