We recommend the following alternative solutions: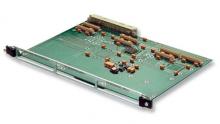 VME motherboards offer limited PMC slots for additional I/O modules; therefore, we offer a line of expansion cards to enable two to three PMC modules per slot for 6U VME applications.
Learn More
Overview
The PMC237 is a 6U form factor card that expands a single PMC site on a VMEbus processor board to two PMC sites and one PCMCIA/CardBus socket or to three PMC sites. Compatible with many VMEbus single board computers, it provides an extension of PCI and PCMCIA capacity within the VMEbus form factor. The PMC237 has the option for the PCMCIA/CardBus cards to be mounted outside the chassis using an 18-inch cable.
Functionally, the PMC237 consists of a PCI/PCI bridge (assuring compliance with PCI loading) and an optional PCI/PCMCIA Host Bus Adapter (see the Abaco Systems PCMCIA/PC Card Host Bus Adapters). Full PCI bandwidth can be maintained to PMC devices installed on the PMC237.
Option for PCMCIA cards to be mounted outside chassis
Option for PCMCIA/Card bus
32-bit PCI on the primary PCI bus
Expands the Host Processor to a variety of PMC slots