PMC-PCMCIA-BP3
PMC with single interface for PC-Card or CardBus
We recommend the following alternative solutions: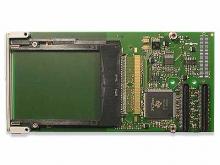 PMC that provides a PCMCIA slot suitable for memory cards, and Type I and Type II 16-bit cards. Not accessible through the front panel.
Learn More
Overview
PMC-PCMCIA-BP3 is a single width 32-bit PMC with one interface for 16-bit PC-Card or 32-bit CardBus cards using a PC-Card controller and a power management unit. The register map of the PC-Card controller is Intel 82365-DF compatible.


Standard single-width 32-bit PMC conforming to IEEE P1386.1
Card size: 149mm x 74mm
PCI 2.1 compliant interface
1 PC-Card slot with hot insertion and removal