We recommend the following alternative solutions: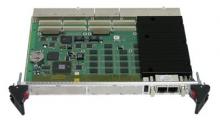 Meet the computing needs of defense and aerospace applications with a 6U CPCI 2nd Gen Core i7-based embedded computer.
Learn More
Overview
Abaco Systems' CPCI-7808 is a single slot CPCI single board computer (SBC) that offers low power consumption via Intel's Pentium M and Celeron M processors, but still delivers a solution with the robustness, reliability and high performance required for your demanding embedded computing applications. The CPCI-7808 features a 400 MHz system bus and incorporates Intel's 855GME graphics memory controller with up to 2 GB Dual Data Rate (DDR) SDRAM. The CPCI-7808 is ideal for I/O intensive applications, offering dual PMC sites (64-bit/66 MHz PCI and 32-bit/33 MHz PCI), parallel and serial ATA, CompactFlash option (available on rear transition utility board), dual integrated serial ports, and three USB ports.
Dual gigabit Ethernet
Hot Swap(Full) PICMG 2.1 Compliant
Up to 2 GB DDR SDRAM
2x PMC expansion sites
Intel Pentium M Processor up to 1.8 GHz
Specifications
Maximum Memory
Up to 2 GB DDR SDRAM
Transition Modules
VMIACC-0591
Bus Interface Chip
Hint HB6
Ethernet
Gigabit Ethernet
Ruggedization
Commercial (benign)

Intel ISA