We recommend the following alternative solutions: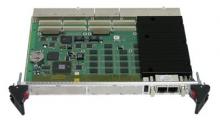 Meet the computing needs of defense and aerospace applications with a 6U CPCI 2nd Gen Core i7-based embedded computer.
Learn More
Overview
Available with either Intel Pentium M or Celeron M processor technology up to 1.8 GHz, the CPCI-7806 CompactPCI SBC features a 400 MHz system bus and incorporates Intel's 855GME graphics memory controller with up to 1 GB Dual Data Rate (DDR) SDRAM. The CPCI-7806 provides high performance computing for I/O intensive applications with the Intel 6300ESB I/O controller hub to provide dual PMC sites (64-bit/66 MHz PCI-X and 32-bit/33 MHz PCI), parallel and serial ATA, CompactFlash option, dual integrated serial ports, and dual USB ports.
Hot Swap(Full) PICMG2.1 Compliant
Dual gigabit Ethernet
Intel Pentium M Processor up to 1.8 GHz
2x PMC expansion sites
Specifications
Maximum Memory
Up to 1 GB DDR SDRAM
Transition Modules
VMIACC-0584
Bus Interface Chip
Hint HB6
Ethernet
Gigabit Ethernet
Ruggedization
Commercial (benign)
Accessories
VMIACC-0584RC - Passive rear transition boards designed for use with the VMICPCI-7806RC CompactPCI Single Board Computers (SBCs). NOTE: This product will no longer be available after 29-February-2012.

Intel ISA