We recommend the following alternative solutions: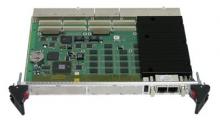 Meet the computing needs of defense and aerospace applications with a 6U CPCI 2nd Gen Core i7-based embedded computer.
Learn More
Overview
The CP9 platform is designed to support processors starting with 1 GHz up to 1.8 GHz. It offers low power consumption and eliminates the need for on-board fans. The design is ready to accept future higher performance Intel Pentium M Processor versions. The CP9 provides a unique feature set, including up to 2 GB of DDR SDRAM (200) with ECC, three independent on-board PCI buses, high speed support for the CPCI backplane,two PMC interfaces (64-bit/66 MHz and 32-bit/33 MHz). A high level of functional integration (VGA/TFT, USB, serial interfaces, etc.) within a single board and wide front panel gives users the freedom to use the PMC interfaces as extension for their applications. The board is also available in extended temperature version ranging from -40° to +85° C.
Hot Swap (Full)
PICMG 2.16 compliant
1 GHz to 1.8 GHz
RoHS compliant with version 3.x
Optimized for front I/O
Intel Pentium M Processor
Specifications
Maximum Memory
Up to 2 GB DDR SDRAM with ECC
Bus Interface Chip
PLX 6254
Ethernet
Gigabit Ethernet
Ruggedization
Commercial (benign)