We recommend the following alternative solutions: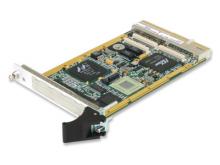 The rugged 3U CPCI PowerPC Single Board Computer with 1 GHz MPC7447A G4 processor, 256 MB DDR SDRAM, 128 MB flash and two Gigabit Ethernet ports can be used as a system controller or peripheral card.
Learn More
Overview
CM4 is a 3U PowerPC CPCI single board computer at 400 or 500MHz for convection or conduction cooling. Up to 256MB 100MHz SDRAM with ECC. 64MB Flash, 64-bit. Fast Ethernet 10/100Mbit. Two async. RS-232 serial channels. Two DMA channels. Four timer/counters. Optional conduction cooling, -40°C to +85°C.
This product has been replaced by the IMP1A.
Conformal coating and Shock/Vibration immunity
Eight bits of discrete TTL I/O w/Interrupt capability
Up to 256 MB SDRAM with ECC (100 MHz)
PowerPC Motorola 7410 at 500 MHz.
Specifications
Processor
MPC755 @ 400 MHz
Maximum Memory
Up to 256 MB SDRAM with ECC
Transition Modules
CM4-TM
Bus Interface Chip
PLX 6254
Ruggedization
Level 5 Rugged Conduction Cooled

PLM Program