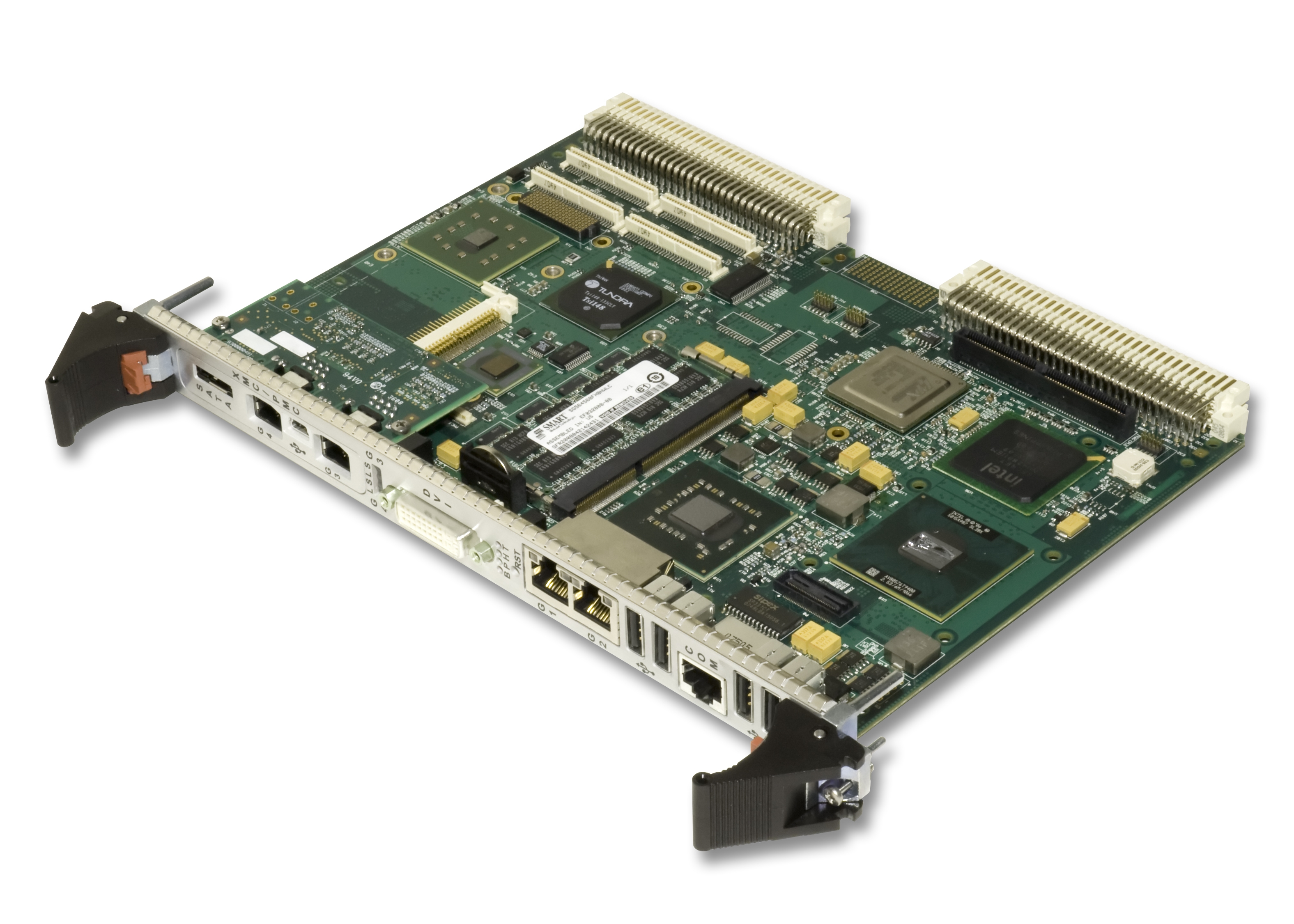 Intel® Core™2 Duo T9400 processor operating at 2.53 GHz
Up to 4 GBytes DDR3 SDRAM
VITA 41.3 (VXS) option
Single XMC/PMC site upgradeable to four via EXP237 mezzanine board
Optional ATI™ Radeon™ graphics via EXP237

CHARLOTTESVILLE, VA January 28, 2009 GE Fanuc Intelligent Platforms, a unit of GE Enterprise Solutions, today announced the V7875 single board computer, responding to customer demand for 6U VME solutions with increased processing performance, lower power consumption, extensive I/O capability and advanced graphics. VITA 41.3 (VXS) for Gigabit Ethernet across the backplane is also optionally available.

Featuring the Intel® Core™2 Duo T9400 processor - which was designed for mobile applications in which power conservation is a key design factor - running at 2.53 GHz, the V7875 also provides up to 6 MBytes of L2 cache. This combination of high clock speed, large cache and fast front side bus, together with low heat dissipation, has been demonstrated to deliver exciting performance in multiprocessor DSP applications. Use of the Intel GM45 chip set provides fast access to up to 4 GBytes of DDR3 SDRAM and a x16 PCI Express interface to deliver exceptional performance for demanding applications.

"In line with our strategy to ensure our customers' investments are maximized, the V7875 provides a seamless upgrade path for V7865 users by delivering improved processor and memory performance while retaining those features on which V7865 customers rely," said Peter Cavill, General Manager, Military & Aerospace Business at GE Fanuc Intelligent Platforms. "Given its leading combination of performance, low power consumption and I/O flexibility, we expect the V7875 to also be very attractive to new customers."

In addition to its outstanding performance, the V7875 also offers remarkable I/O flexibility. Not only does it provide support for a PCI-X XMC/PMC site but also a connector to the EXP237 mezzanine board to deliver an optional three additional XMC/PMC sites. The board can optionally include the ATI™ Radeon™ E2400 graphics processing unit – which features a x16 PCI Express interface and 1,920 x 1,080 (full HD) HDMI resolution – in place of one of the XMC/PMC sites, providing a powerful 2D, 3D and multimedia graphics capability.

Additional connectivity is provided by a dual SATA disk interface, two Gigabit Ethernet ports routed to the front panel, four USB 2.0 ports and two serial ports. For applications not requiring the XMC/PMC site, even further I/O – one eSATA port, one USB 2.0 port and two Gigabit Ethernet ports (when VITA 41 is not available) - can be provided via the front panel.

To learn more about GE Fanuc in the military and aerospace market, please visit www.gefanucdefense.com.


About GE Fanuc Intelligent Platforms
GE Fanuc Intelligent Platforms, a joint venture between General Electric (NYSE: GE) and FANUC LTD of Japan, is a high-performance technology company and a global provider of hardware, software, services, expertise and experience in automation and embedded computing, with products employed in virtually every industry, including manufacturing automation, defense, automotive, telecommunications, healthcare and aerospace. GE Fanuc Intelligent Platforms is a worldwide company headquartered in Charlottesville, VA, and is part of GE Enterprise Solutions. GE Fanuc Intelligent Platforms provides a unique foundation of agile, advanced and ultra-reliable technology that customers can trust to ensure their long-term success. For more information, visit www.gefanuc.com

About GE Enterprise Solutions
GE Enterprise Solutions elevates customers' productivity and profitability with integrated solutions using sensors and non-destructive testing; security and life safety technologies; power system protection and control; and plant automation and embedded computing systems. Enterprise Solutions' high-tech, high-growth businesses include Sensing & Inspection Technologies, Security, Digital Energy, and GE Fanuc Intelligent Platforms. The business has 17,000 problem-solving employees in more than 60 countries around the world.

###

Contact:
Ian McMurray, GE Fanuc Intelligent Platforms
+44 (0) 1327 322821
ian.mcmurray@gefanuc.com


Intel is a registered trademark, and Core is a trademark, of Intel Corporation. ATI and Radeon are trademarks of Advanced Micro Devices, Inc. All other trademarks are the property of their respective owners.