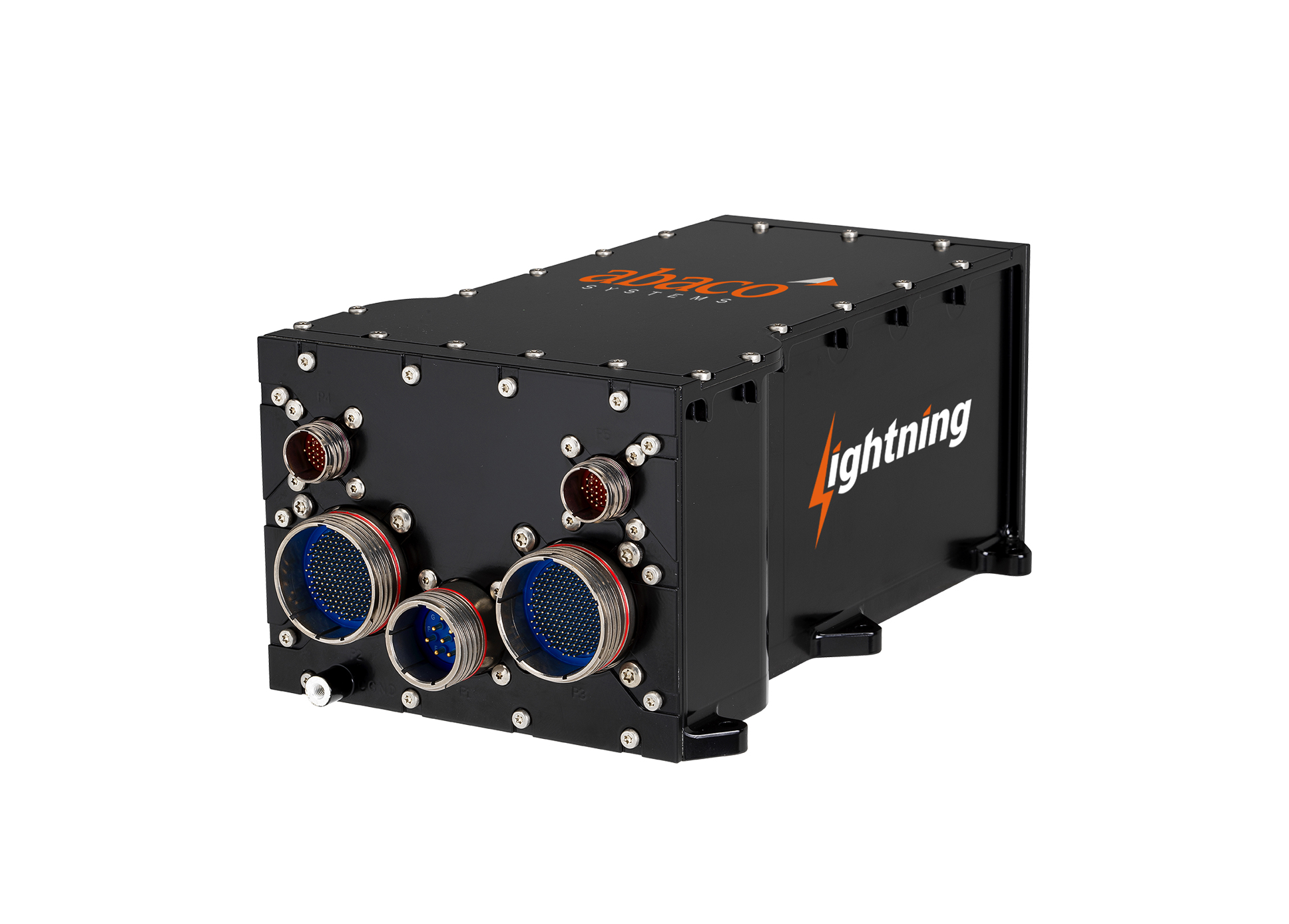 HUNTSVILLE, Ala.— SEPTEMBER 12 2017 —  Abaco Systems today announced the unique Lightning platform that is designed to substantially reduce the cost and time involved in developing leading edge rugged embedded mission ready systems.
Lightning-based systems are designed to be delivered to precise customer requirements in weeks rather than months with a high degree of I/O customization, resulting in significant cost and time savings. Systems based on the Lightning platform will be available in a number of small form factors, and are designed to fulfill a broad range of mission requirements.
A Solutions Brief, explaining the background to the development of the Lightning platform, is available here. A brief video overview of the new architecture is available here.
The first two Lightning-enabled systems – the MCS1000 and GVC2000 – will be announced on September 26.
"Lightning transitions advanced military embedded computing from bespoke systems that are expensive to develop and take too long to deploy to a world in which customer-unique functionality can be quickly and cost-effectively delivered," said Mrinal Iyengar, Vice President, Systems & Services at Abaco Systems. "Our intention is to support our customers in delivering the benefit of advanced technologies much more rapidly to those who serve us."
Lightning platform-enabled mission ready systems are designed to address three major customer pain points – the cost and time of custom system development; the challenges of implementing I/O for legacy and/or complementary system interfaces; and the difficulty and expense of technology upgrades.
The Lightning platform addresses these pain points by sharing a common, modular, scalable platform, enabling it to address numerous system needs and utilizing a standard footprint and connector to minimize design efforts. It leverages the capabilities of Abaco's uniquely flexible and patented  MMS I/O technology  that can accommodate virtually any I/O requirement. Finally, it enables easy upgradability via the simple exchange of  individual subassemblies.
Systems based on the Lightning platform are all designed to meet a rigorous qualification process based on select MIL-STD-461G, DO- 160G, MIL-STD-704F and MIL-STD- 810G standards. Customers can leverage the already-qualified subsystem in their system level qualification efforts to reduce their costs and schedule for qualification.
"Lightning is truly a COTS solution that meets our customers' needs," continued Iyengar. "With the Lightning platform, developers of advanced mission ready systems can substantially reduce the cost and minimize the lead time of designing sophisticated solutions for specific applications. The Lightning platform addresses real customer challenges with its uniquely flexible I/O, predictable physical characteristics and modularity. That means that these systems can be designed at less cost and in less time, potentially reducing lead times to weeks rather than months – and this translates into a lower cost of the overall solution and faster time to deployment for our customers."
For more information: click here.
About Abaco Systems
With more than 30 years' experience, Abaco Systems is a global leader in open architecture computing and electronic systems for aerospace, defense and industrial applications. We deliver and support open modular solutions developed to upgrade and enhance the growing data, analytics, communications and sensor processing capabilities of our target applications. This, together with our 800+ professionals' unwavering focus on our customers' success, reduces program cost and risk, allows technology insertion with affordable readiness and enables platforms to successfully reach deployment sooner and with a lower total cost of ownership. With an active presence in hundreds of national asset platforms on land, sea and in the air, Abaco Systems is trusted where it matters most. www.abaco.com
For more information, contact:
Ian McMurray
Communications Manager
Abaco Systems
All trademarks are the property of their respective owners.