Overview
All-in-one
The EIU1000 is a rugged-by-design Extended Interface Unit that combines a powerful System-on-Chip with a broad range of Ethernet, avionics databus and serial channels, and discrete I/O connections into a compact all-in-one solution. The compact size and flexible configuration make the EIU ideal for systems that require redundancy. The integrated eight port Ethernet switch allows you to connect multiple EIUs without additional hardware.
Small and Tough
The EIU1000 has ultra low SWaP, measuring at less than 80 in3, but the rugged design is ideal for use in harsh vibration, shock, and EMI environments. Powered by Xilinx's Ultrascale+ System-on-Chip (SoC) with quad-core ARM CPU and FPGA, the EIU delivers a powerful and flexible solution in a small-form-factor-module.
Specifications
Form Factor
Small Form Factor Package
Processor
Xilinx Zynq Ultrascale+ ZU7EG MPSoC, FPGA
I/O
ADC, ARINC 429, Discrete, Gigabit Ethernet, GPIO, MIL-STD-1553, USB 2.0, RS 232/422/485
Application
Rugged, Embedded
Control Interface
Ethernet
Protocol
ARINC 429, MIL-STD-1553
Weight lb (kg)
<3 lbs (<1.4 kg)
User Programmable FPGA
Zynq Ultrascale+
FPGA Family
Zynq Ultrascale+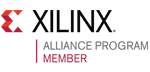 XILINX
SWaP
Minimizing size, weight and power is one of the biggest challenges our customers face. That's why we prioritize it in all our product designs.