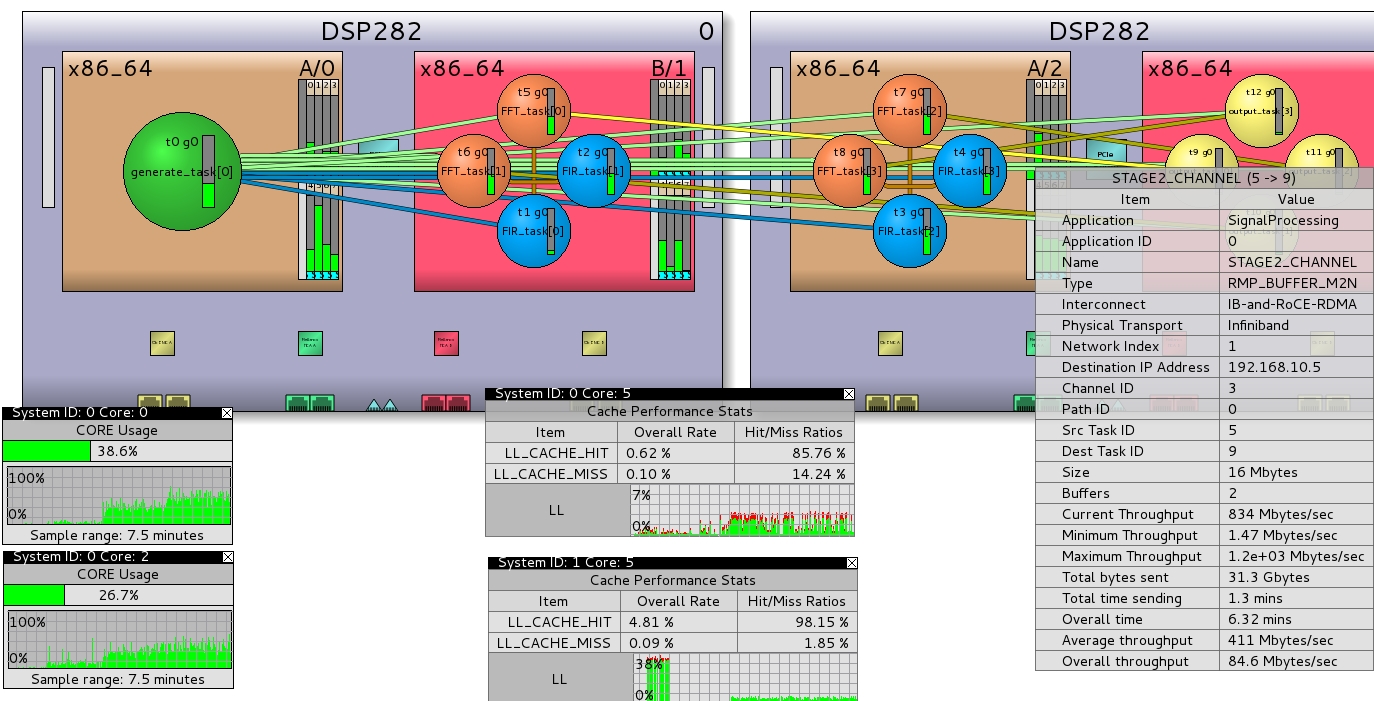 HUNTSVILLE, Ala.— September 14, 2016  Abaco Systems today announced the release of version 7.0 of AXIS, the company's innovative, powerful, intuitive software environment for the development of sophisticated, high performance embedded computing applications such as radar, sonar, signals intelligence and image processing.
AXIS 7.0 includes:
a substantially enhanced EventView, a performance analysis tool which allows developers to demystify application performance;
a full DataView toolkit, which significantly eases the use of GUIs in embedded applications;
an updated version of AXIS MPI with improved performance and NVIDIA® GPUDirect™ support;
support for ARM® processors as well as the NVIDIA Tegra® K1 and X1;
support for all of Abaco's most recently announced  hardware platforms.
AXIS is a suite of tools and libraries designed to greatly aid the development of demanding embedded computing applications, complementing the tools and libraries available from the open community to help developers greatly improve application efficiency and also reduce development time, resulting in faster time-to-deployment. It can also aid developers in meeting challenging size, weight and power (SWaP) targets.
It is highly portable across different operating systems, processor architectures and fabrics, and also highly scalable: AXIS-developed applications can be run on target systems with only a few cores or hundreds of distributed processing cores. By shielding developers from the detail of the underlying hardware platform, AXIS allows them to focus on the specific needs of the application. AXIS is also a vital tool for easing and speeding the process of debugging and optimizing applications, reducing the cost of development.
The AXIS View GUI provides a user-friendly interface to create, configure, build, load, run, scale, visualize and tune multiple applications across distributed multi-threaded, multicore, multi-node platforms from a single user interface.
"AXIS is a comprehensive, fully-featured software development environment that enables our customers to develop and deliver faster applications more quickly," said David Tetley, Engineering Manager at Abaco's HPEC Innovation Center. "We continue to invest in innovative software to reduce our customers' development costs and time-to-deployment. The ongoing evolution and development of AXIS confirms Abaco's commitment to deliver solutions and tools to make our customers' more productive and decrease development risk"
The AXIS package contains a comprehensive set of example applications demonstrating the use of various features of the AXIS Flow and MPI layers. It also includes a signal processing demonstration application with a reusable GUI display.
For more information:
Product:  https://www.abaco.com/products/axispro/p2076
Datasheet:   https://www.abaco.com/download/axispro
About Abaco Systems
Abaco Systems is a global leader in open architecture computing and electronic systems for aerospace, defense and industrial applications. Spun out of General Electric in 2015, we deliver and support open modular solutions developed to upgrade and enhance the growing data, analytics, communications and sensor processing capabilities of our target applications. This, together with our 700+ professionals' unwavering focus on our customers' success, reduces program cost and risk, allows technology insertion with affordable readiness and enables platforms to successfully reach deployment sooner and with a lower total cost of ownership. With an active presence in a significant number of national asset platforms on land, sea and in the air, Abaco Systems is trusted where it matters most. www.abaco.com
For more information, contact:
Ian McMurray
Communications Manager
Abaco Systems
NVIDIA and Tegra are registered trademarks, and GPUDirect is a trademark, of NVIDIA Corporation.  ARM is a registered trademark of ARM Limited. All other trademarks are the property of their respective owners.