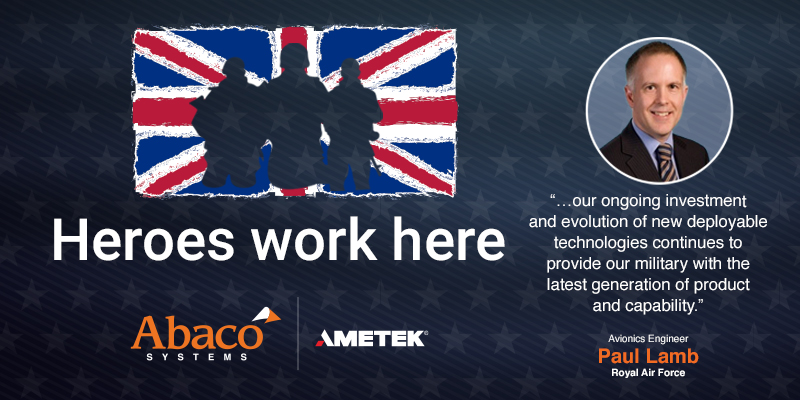 For the second installment in Heroes Work Here, I'd like to highlight Paul Lamb, business development director at Abaco Systems, who served in the Royal Air Force. Thank you for your service, Paul.
Alisa: What motivated you to join the military?
Paul: My grandfather served in the Royal Air Force with Bomber Command during the Second World War. From an early age he inspired me to forge a career in the RAF, to serve my country as a part of a team and learn new life skills including communication, decision making and leadership. Unfortunately he never saw me in uniform as he sadly passed away during my basic training phase.
Alisa: Can you tell us about your career in the military?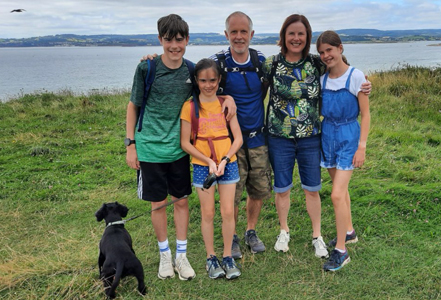 Paul: I spent nine years in the Royal Air Force as an avionics engineer, having joined the RAF as an apprentice. My experience includes radar, comms and flight systems equipment for a number of combat capable platforms including Tornado GR4. Whilst based at RAF Brize Norton my role comprised managing flight operations for a fleet of Tri-star aircraft and included an overseas detachment supporting the NATO forces, as a part of Operation Deliberate Force, during the conflict in Bosnia and Herzegovina.
Alisa: Why did you come to work for Abaco?
Paul: My history with Abaco goes back a long way. As some long serving colleagues will recall, my career outside of the forces started many years ago at Radstone and brought me to the Towcester area. My engineering and military background aligned both with the products and one of our key target markets. Our current senior leaderships' drive, passion and vision for success easily persuaded me to join the Abaco team as the next challenge in my career path.
Alisa: Would you recommend Abaco to other veterans and why?
Paul: Absolutely. Our ongoing investment and evolution of new deployable technologies continues to provide our military with the latest generation of product and capability to operate in an ever challenging environment. Being able to do this as a part of a great team is an added bonus.

Alisa: What is the most innovative or challenging thing you've done since you've been here?
Paul: I re-joined the company to set up the International Business Development Team. Starting the role during COVID lockdown was an additional challenge which no one could have expected. With travel restrictions continuing to ease, I am looking forward to increased face to face customer interactions as we continue to grow the International Team's long-term pipeline, in collaboration with the wider BD Team, sales and all parts of the organization.  
Alisa: How have the leadership principles you learned while serving benefitted you at Abaco?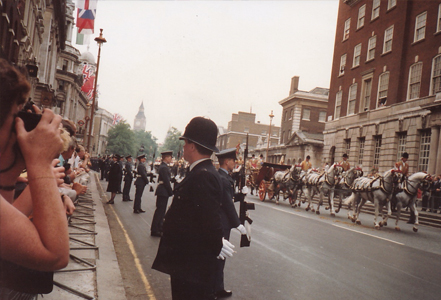 Paul: One of key leadership principles I learned early in my RAF career was to think on your feet and to be adaptable to change. Intuitive thinking, being able to quickly identify problems before they occur and adjust the trajectory of an operation is essential to a successful outcome. This equally applies to the business world. No customer engagement is identical and creative problem solving to manage time, resources and commercial aspects to modify the strategy, sometimes on the fly, is an essential part of a successful business operation. I regularly challenge myself to remain open to adapting and making changes, however small.
Alisa: What one thing did you learn while you were in service that you carry with you through life?
Paul: For any military operation to be successful, it is not about the individual, it relies on the support and collaboration of a strong team. Everyone is different but we all play our part. The challenge is to build on the strength within the team and work together to address any challenges. I see this every day within the company, which makes it a great place to work and an honour to be part of the Abaco team.
Alisa: You meet your 18-year-old self and are only allowed to say 3 words … what do you say?
Paul: Don't fear change.
Alisa: Do you have any other comments or anything you'd like to share?
Paul: Working in a market which I know and love, with great people and a strong leadership team makes me thankful every day to be able to do my part as we continue the journey together.