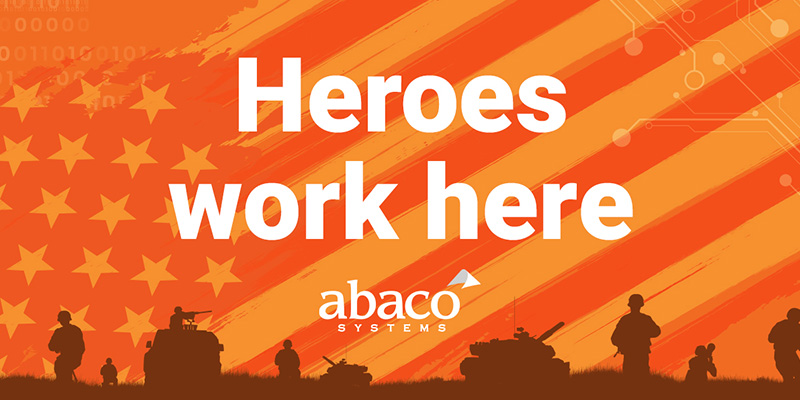 Michael McNeary
Aerospace Ground Mechanic
United States Air Force
---
It has been our pleasure to highlight several of our incredible Abaco employees and veterans over the course of the week in honor of Veterans Day. In our sixth and final installment of Heroes Work Here, I'd like to highlight Michael McNeary, from the Engineering Technology Department at Abaco Systems, Inc. who served in the United States Air Force. Thank you for your service, Michael.
Alisa: Can you tell us about your career in the military?
Michael: I was always interested in the sciences and began my career drawing Isometric Illustrations of Boeing aircraft assemblies. After gaining my Associates in Science I worked as an engineer aid summer hire at Lockheed Aircraft Corp. where I assisted in creating database for microcircuits. This ultimately led me to my military service in the United States Air Force as an aerospace ground mechanic responsible for conducting periodic inspections and maintenance on all flight line aerospace ground equipment used to support flight operation.
Alisa: Why did you come to work for Abaco?
Michael: After discharge, I went on to complete my Bachelor's Degree in Physics and later I enrolled in a Masters in Physics program at California State University Long Beach. I have had the opportunity to work in a wide range of fields including avionics, nuclear power, photonics, magnetics, and now on single board computers with Abaco. The skillset I acquired over the course of my career was a natural fit for working on SBC's.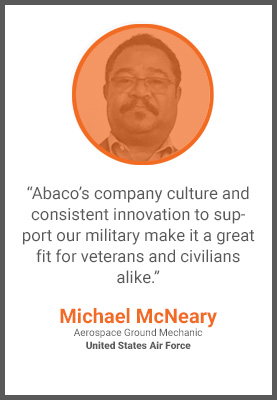 Alisa: Would you recommend Abaco to other veterans and why?
Michae: Most definitely – the company culture and consistent innovation to support our military make it a great fit for veterans and civilians alike.
Alisa: What is the most innovative or challenging thing you've done since you've been here?
Michael: I have thoroughly enjoyed working on an innovative approach utilizing the X10 as a proof of concept to create a platform which tests most single board computer products with minimal redevelopment of the test platform itself.
Alisa: What one thing did you learn while you were in service that you carry with you through life?
Michael: Everything takes team work! Nothing in the military is a one man operation, and neither are most innovative approaches to customer problem points. It takes a team who is willing to work together for the greater good towards a solution to whatever arises.