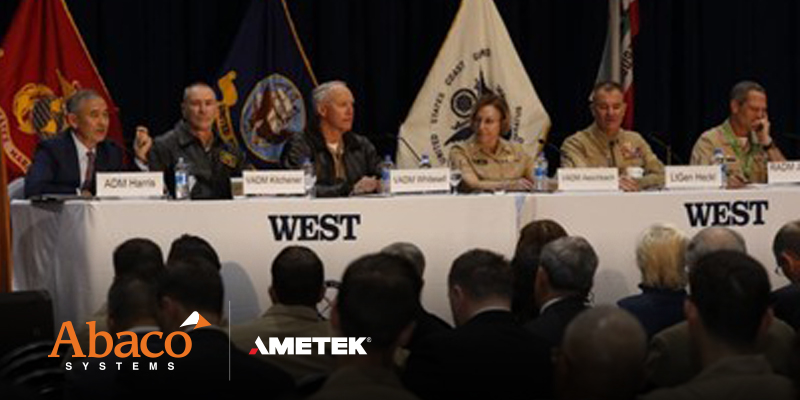 AFCEA West 2022, now in its 32nd year of bringing military and leaders of industry together, has been smooth sailing this week. The Honorable Lloyd J. Austin III – Secretary of Defense was the keynote speaker on Day One. He is the principal assistant to the President in all matters relating to the Department of Defense and serves on the National Security Council.  
Day One's first Warfighter Panel was led by: 
ADM Harry Harris Jr. – Former Commander Pacific Fleet
VADM Kelly Aeschbach – Commander Naval Information Forces
Lt Gen Kartsen Heckl – Commanding General, USMC Combat Development Center
VADM William Houstron – Commander Submarine Forces
VADM Roy Litchner – Commander Naval Surface Forces
VADM Kenneth Whitesell – Commander Naval Air Forces
Day Two featured the keynote theme: American People and American Sea Power: Do we Have the Right Message?
Adm. Harry Harris Jr., USN (Ret.), former commander of U.S. Pacific Command, described the status of rising tensions in the Indo-Pacific region to the opening keynote audience at WEST 2022. He said that the U.S. must stand firm with allies against growing aggressions. Alliances are the greatest strength the United States possesses as it confronts increased tensions in the Indo-Pacific region, said a former combatant commander for that area. And they must be buttressed by unambiguous words and actions by the United States before critical actions erupt.
The retired admiral, also a former U.S. ambassador to South Korea, extended his perspective across the Indo-Pacific region to include Ukraine. The U.S. faces a host of challenges, he said, and it must be decisive as it works with key allies to counter growing threats.
The military focus of AFCEA West was the US Navy Pavilion, which hosted representatives from NAVSEA, NAVBWAR, NIWC, and NSWC.
The Town Hall discussion speaker panel consisted of: 
ADM William Moran – Former Vice Chief of Naval Operations.  A retired four-star officer with over thirty-eight years of service and experience, he began his career as a Naval Aviator and rose rapidly to hold command leadership positions at every level of the Navy.  
Representative Elaine Luria (D-VA), who represents Virginia's Second Congressional District. Having served two decades in the Navy, Rep. Luria served at sea on six ships as a Surface Warfare Officer, deployed to the Middle East and Western Pacific, and culminated her Navy career by commanding a combat-ready unit of 400 sailors.  
U.S. military officials in the Indo-Pacific region agree that to compete with China, U.S. naval forces should adapt more quickly. Asked specifically by an audience member whether the military is adapting quickly enough for China, multiple members of a panel agreed that the answer is "no".
The Industry Panel for Signals Intelligence, Artificial Intelligence and Electronic Warfare was hosted by CACI, Northrop Grumman, Dell Federal and NIWC.  Advancements in these areas are critical to ensuring strategic overmatch in Joint All-Domain Operations, where new technologies must be leveraged.
Abaco Systems has hosted numerous companies in Booth #1547 to demonstrate how we support the Navy and programs like SEWIP, SPEIR, and DMO. Our multi-processing solutions combine EO/IR video, EW, secure comms and networking in a single box that reduces SWaP. Our flagship single board computers, DSP, and graphics/GPGPU boards are SOSA/MOSA aligned to improve interoperability among the fleet, save money and accelerate program implementation.  Check out our expertise at sea. 
If you enjoyed this blog, check out our other blogs from WEST '22  "Abaco Goes West" or "Tackling Bureaucracy While Still Being Innovative"