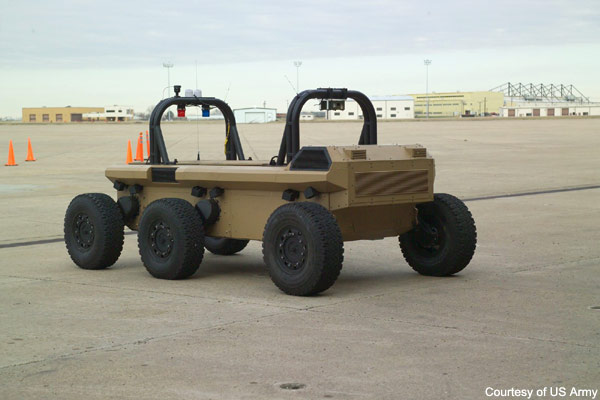 Mid-August saw the unmanned vehicle systems community converge in Washington D.C. for the largest convention of its kind in the world. Around 9,000 attendees came to educate, listen, report and sell, and companies from a host of countries — including the U.K., Turkey and China — came to show their wares.
Although the event was understandably dominated by military applications, many commercial devices and applications were also showcased. Platforms on show ranged from remote-controlled vehicles the size of a hand, up to full-sized helicopters. As we have come to expect in these days of sequestration and cuts in travel budgets, the number of uniformed attendees was not what it once was — but 8,000 registered participants showed that this domain is still important.
I was interested to read an article on AUVSI by John Keller, the esteemed editor of Military & Aerospace Electronics, in which he observed that AUVSI "had plenty of the Wild West on display." (If anyone would know about American history, John would). John talks about an interesting conundrum, not just for unmanned vehicles, but for the whole mil/aero industry. There was certainly plenty of fascinating technology on display in D.C., being applied to some hugely imaginative products. But, as John says, the unmanned vehicle industry will increasingly adopt open standards as it matures, for many reasons.
In the mil/aero market, that's a dilemma for prime contractors, systems integrators and military users around the world. There are some cool things you can do with proprietary technology — because you're pretty much unbounded, and your imagination can run riot.
But military organizations have been down the proprietary route before — and found that it leads to a dead end. Open standards are not only important for the public safety needs that John points out, but for a host of other reasons — interoperability and integration, vendor independence, reduced size, weight and power SWaP, lower cost of ownership, ongoing technology insertion and greater program longevity are just a few of them.
And in the same way that it's hard to see how some of these proprietary technologies can survive, despite their undoubted attractions, so too it was hard for me, looking around the AUVSI show floor, to believe that all those exhibitors would return for AUVSI 2014.
The mil/aero industry is going through a challenging time, and high on the priority lists of many organizations is the minimization of risk. Risk means cost overrun. Risk means schedule overrun. Risk means late to market and loss of competitive advantage. Increasingly, program managers are de-risking their programs by going for proven, high-TRL technologies from proven, experienced vendors who will be around for the long term.
John Keller's Wild West analogy is a good one. Just as with the Wild West, lawlessness and anarchy in the unmanned vehicle market will be replaced by order, stability and maturity in a process that, inevitably, sees only the strong survive.
Speaking of which…
GE had a sizeable presence on the vendor floor. Groups from GE Intelligent Platforms, GE Global Research Center, and GE Aviation Systems were on hand to discuss a variety of technologies with customers. GE Intelligent Platforms had three areas of focus.
The ADEPT3100 was launched. This highly compact (34mm x 24mm) device combines tracking and image stabilization of live video feeds — in a package designed to fit in the tightest of spaces, and ruggedized to survive harsh environments.
A
 range of COTS Rugged Systems (CRS) was on display to illustrate some of the compact packages GE has designed with SWaP in mind, which are particularly applicable to unmanned vehicles.
High Performance Embedded Computing (HPEC) was represented by a software development system that can serve as the starting point for developing a scalable system architecture and software design. This helps meet a variety of needs, from ISR exploitation to autonomous vehicle operation. Software on display illustrated the image processing power of such a system by performing a variety of representative processing tasks on multiple simultaneous video feeds. At the same time, system performance could be visualized and evaluated by the AXIS tools running in the background.
And, one of GE Intelligent Platforms' key customers announced details of how a GE HPEC system running autonomous mission management has been used in recent months to conduct flight tests in a full-sized helicopter.
GE will, of course, be one of the companies you can expect to see at AUVSI 2014.
So, will wild west or law & order prevail? We'd love to hear your thoughts.