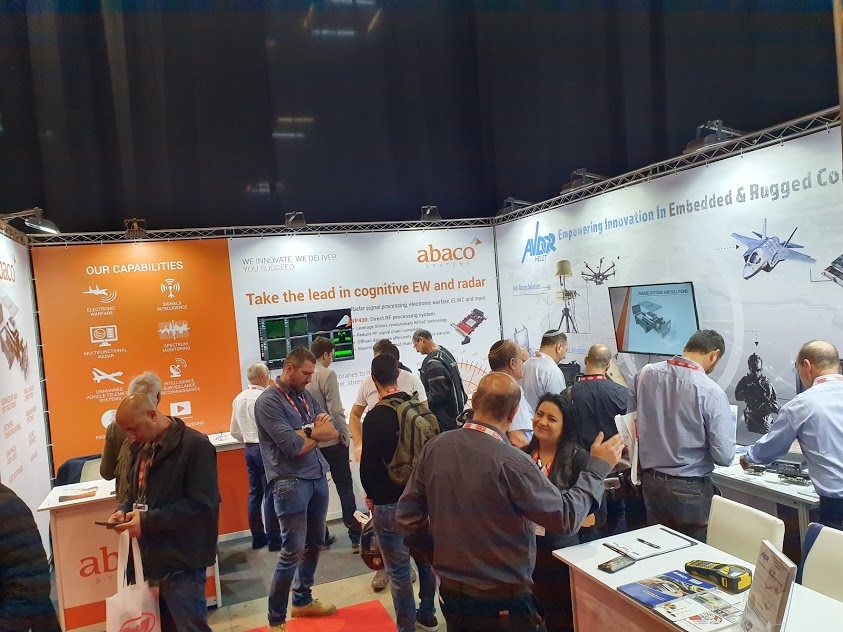 This week, we've been at the Military and Aviation Exhibition at Expo Tel Aviv – the leading conference for the military and aviation industries in Israel - working together with our local partner AVDOR. The AVDOR Group was established in 1989 in Israel as a leading agent, distributor and solution provider for projects with challenging applications.
Israel is among the technology leaders in defense electronics and computing, and is home to numerous research and development companies – many of whom were present at the exhibition.
It turned out to be an excellent event – thanks in no small part to AVDOR, who did a stellar job ensuring that the Abaco name was out there. And: our booth location was perfect in terms of its visibility to the many exhibition visitors. As such, we saw a lot of traffic, with wall-to-wall meetings with numerous new contacts as well as reconnecting with our existing customers.
There was a great deal of interest in our demonstrations. We took the opportunity to showcase our 3U VPX VP430 RFSoC platform. The VP430 was the first 3U VPX COTS solution to feature the all new Xilinx ZU27DR RF system-on-chip (RFSoC) technology, and is one of the densest analog FPGA DSP boards available, with eight ADC and DAC synchronized channels.
Designed for advanced electronic warfare applications including MIMO (multiple input/output), beamforming, sensor processing and radar signal processing, the VP430 is a major step forward in performance and density, enabling the use of fewer boards and much less power while delivering increased processing throughput. In fact, for comparable capability, it occupies one fourth of the slots that earlier generation solutions would require.
Also on show was our unique, innovative Health Toolkit. Designed to maximize system reliability and success in mission critical environments such as electronic warfare, digital radar and flight control. Health Toolkit is a software/middleware tool, operating between the underlying hardware and the application software, that interrogates all aspects of the hardware's performance, optionally reports on its health via an intuitive GUI and enables corrective measures to be taken if necessary.
The coming weeks will see us working with AVDOR to follow up on the many opportunities we identified.