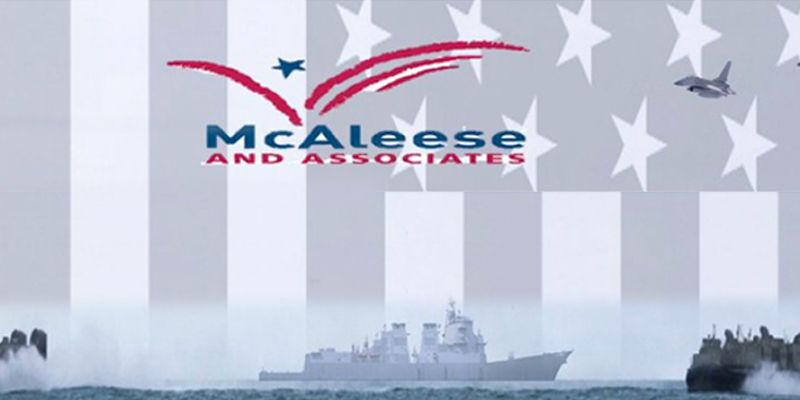 Abaco leadership had an opportunity to participate in the highly regarded Annual McAleese Associates FY22 Defense Programs Conference May 12 & 13.  The virtual summit included presentations and discussions by over 20 of The United States' senior leaders – to include Senators / Congressman from the House Armed Services Committee (HASC), Joint Chiefs of Staff (JCS), The Commanding Generals, Admirals, and Commandant of each Armed Service, Acquisition Chiefs, key program decision makers (JSF, GBSD, FVL, Hypersonics, Space Systems and more..), and leaders for main R&D Efforts.  
In short – it was an incredible opportunity to interact and gain a deep understanding of the state of the United States DoD, where we are going, what the threat is, and what America needs to stay strong and competitive – With a firm position on Peace through deterrence.  Over 1000 DoD and Industry leaders attended the two-day virtual event and roundtable sessions.
As a supplier of key enabling technologies for rugged embedded systems,  Abaco Systems was afforded the opportunity to participate as a thought leader in multiple question and answer sessions.  Rich Sorelle, John Muller and Mark Hutnan peppered the top senior leaders of our Nation with multiple questions surrounding topics such as:  
Army modernization efforts, especially in the Land and Air Domains for Ground Combat Vehicles and Future Vertical Lift
The Navy's planned growth from about 290 ships today to greater than 350 by 2026, with an eye on more than 500 ships over the next 15 years.
The looming supply chain and logistics crunch due to increase in demand for silicone level parts and diminishing raw material for manufacturing in the US
What is the DoD doing to jointly gain Electromagnetic (EM) Spectrum and Electronic Warfare (EW) Dominance in what some believe is emerging as the MOST IMPORTANT warfighting domain.
With current budgets looking flat, the future outlays in question, and record deficit levels – How does the DoD and the Army intend to be able to pay for and procure key modernization programs such as FVL, LRPF, Hypersonics and OMFV?
The responses to these inquiries were interesting to say the least!
In response to Rich's questions, Mr. James "Hondo" Guerts, Undersecretary of the Navy affirmed that the Navy needs to be realistic about growing the fleet to offset the China threat, while acknowledging past failings and "getting real" with a plan that includes improving proficiency and readiness.  
In a short discussion with VADM William Galinis, Commander NAVSEA Systems Command, John Muller was able to confirm the Navy's focus on the key technologies to improve lethality and survivability.  Per VADM Galinis, the Navy seeks top-line funding increases for sea-control, power-projection, and forward presence to deter the kinetic fight before it starts.
On the last day of the conference, the Abaco Team was again in the front of the line with some more questions.
Rich was first out of the gate with Gen John Hyten, Vice Chairman of the JCS.  Rich wanted to dive into the DoD's plans for EM Spectrum and EW dominance at the COCOM level.  Gen Hyten responded to Rich's inquiry by acknowledging the incredible importance of EM and EW dominance.  Gen Hyten discussed the need to aggressively acquire and train users on the latest EM / EW technologies across all service elements in support of Air, Land and Sea operations.  Per Gen Hyten, expect to see the new Joint Warfighting Concept published soon.  Gen Hyten stated, " Fires will come from everywhere…We must cut off those fires and then respond with our own….we know China and Russia are heavily - focused on breaking the US kill-chains through intense Electronic Warfare…"
Mark closed out Abaco's extensive question set by asking the Chief of Staff of the Army, Gen James McConville, which legacy programs does the Army need to ramp down and move away from in order to fund key modernization programs?  The General declined to give specific program descriptions, but did say that, "Top 31+4 Army modernization programs will be funded, along with enabling programs such as TPQ-53.  Mark was also able to follow up and directly ask Gen McConville if the Army thinks it can procure and field both FLRAA and FARA at the same time in this budget environment.  The Gen answered with an absolute, "YES".
All in all, it was a unique opportunity to not only learn about DoD plans, initiatives and concerns, but also a chance to communicate the Abaco name, who we are, what we do, and how we can enhance the warfighter's capabilities.  Without a doubt, after the conference the 20+ DOD leaders and the 1000+ Industry attendees know and understand who we are and what Abaco Systems does.