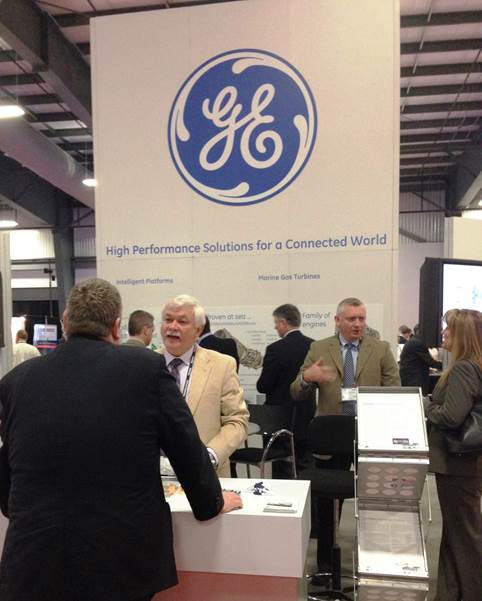 May 28 and 29 saw GE Intelligent Platforms exhibiting at CANSEC, Canada's premier defense trade show.
The event is run by the Canadian Association of Defence and Security Industries (CADSI), and attracted over 10,000 registrants and 331 exhibitors.
Yes, 10,000. Now, I can't say for sure that so many actually turned up, but it wouldn't surprise me. Both days saw a constant flow of traffic—speaking of which, it took me an hour to drive the last half-mile to the conference center (sorry, centre), so I knew it was going to be busy.
We shared booth space with our friends and colleagues from GE Marine. It never ceases to amaze me just how diverse, yet related the business units of GE are. GE is all about the connected world, and Intelligent Platforms is no exception. From the Industrial Internet to the connected battlefield, getting devices to communicate effectively and disseminate actionable information has never been more important.
We featured our entire product range, with a focus on COTS Rugged Systems (CRS) and AXIS. CRS are pre-validated, packaged, rugged systems that provide a flexible computing platform suited for a host of applications on unmanned aerial vehicles (UAVs), ground vehicles and manned aircraft. Building on our unrivaled range of processors, sensor acquisition and I/O boards in a variety of industry-standard form factors, CRS are flexible, but quick to configure and deliver.
AXIS is a suite of software modules and tools that can be used to accelerate the design, development, testing and deployment of complex DSP and multiprocessing platforms for real-time applications such as radar, sonar, communications and image processing.
Singularly or in tandem, CRS and AXIS provide integrators with a significant head start on projects. Instead of having to wait months for the design and build of a chassis, backplane and connections, they can leverage a pre-integrated and tested solution to get to that all-important proof of concept demonstration quicker and cheaper. In many cases, the configuration and connections to the outside world are acceptable as a first-article demonstration platform, with any customization taking place at the next phase of funding.
Similarly, AXIS significantly accelerates the time it takes to develop, test and tune the application software. It is just as applicable to systems with one processor as it is to multiprocessor systems.
One message that comes across loud and clear from our customers, no matter what country they are from, is that budgets are smaller, timescales are compressed and developmental items are not favored. CRS and AXIS provide a coordinated solution to those issues.