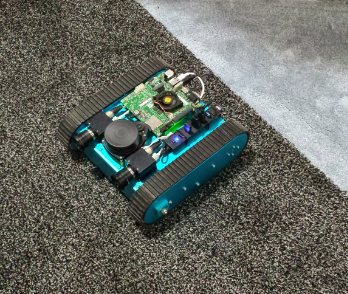 Our friends from Military & Aerospace Electronics recently visited our resident robot-geek Dustin Franklin at our AUSA booth to talk about how GE is using gaming technology in military applications.
Contrary to the rumors floating around at the show (probably started by Dustin himself) GE's Intelligent Platforms business is not in the robot business and we did have to disappoint some potential customers who wanted to buy one as a Christmas present for their kids. The demo is a great example of how we apply commercial technology to military applications—in this case, the same silicon you might find in the latest Android phones and high-end gaming consoles can bring high-performance computing and image processing to robots and autonomous vehicles. The demand for very powerful compute performance while consuming as little power as possible is a perfect fit for GPGPU technology.
You see, this is a simple business. We talk with customers and try to understand the problems they are wrestling with. Then we look in our (big) bag of tricks to see what we might have to help them. In most cases it takes some creative thinking. For example, we applied our image processing products to assist fighter jets with the difficult task of in-flight refueling. GE SBCs—with the same Intel processors you might find in your laptop—are used as the brains of missile defense systems that can detect and react to attacks in split seconds. GE Ethernet switches are used to make locomotives more efficient while saving fuel and money for their operators. And yes—the NVIDIA graphics chips are being used in all sorts of applications beyond game consoles and cell phones.
Our demo gained a lot of attention at the AUSA show, and it wasn't just the service members, customers and partners that stopped by to see it. We had quite a few competitors sneak into the booth as well. Which got us thinking: maybe our little robot could use its image recognition and target-tracking capability to stand guard and protect our booth in future events. Stay tuned for further development here…