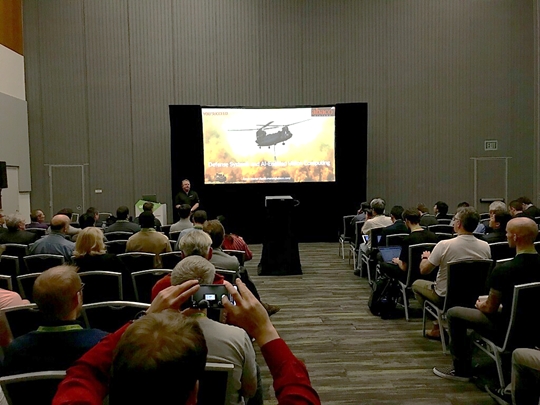 It's a wrap at the "premier conference on artificial intelligence and deep learning".
The evening of Day 2 included social networking time on the exhibit floor, followed by the 3-hour GTC Party into the night. We had to wonder just how busy the hall and our booth would be the following and final day. Impressively, the crowds were just as large and energized as they were the previous 2 days.
The AI community is truly super-passionate and apparently tireless. Our booth saw a lot of traffic, but it peaked beyond capacity when we were "Jensened". Our booth is next to the NVIDIA pavilion and CEO Jensen Huang was on site to do a live appearance on the Mad Money show with Jim Cramer right across the aisle from us. The crowd swelled to the point of completely clogging the aisles and our Abaco corner became a shortcut for many passers-by. Needless to say, we had a lot of conversations, although not everyone was as attentive to our wares as we would hope.
AI-based applications
In the afternoon, I had the privilege to provide a 50-minute presentation to an audience of between 60 and 70. In my presentation, entitled "Defense Systems and AI-Enabled Vision Computing",  I described Abaco's NVIDIA GPU-based GVC1000 and GVC2000 graphics and vision computers, discussed the complex AI-based defense applications being researched across land, sea and air, and showed how our newly-announced AXIS ImageFlex toolkit can make a substantial contribution to the ease and speed with which these advanced applications can be developed.
Based on feedback after the talk, it was clear the audience was intrigued by the ImageFlex toolkit and the machine learning APIs that enable efficient development of high-performance real-time image processing and visualization applications, as well as the interoperability between the NVIDIA CUDA platform and OpenGL / OpenCL APIs.
It was clearly a real eye OpenER!