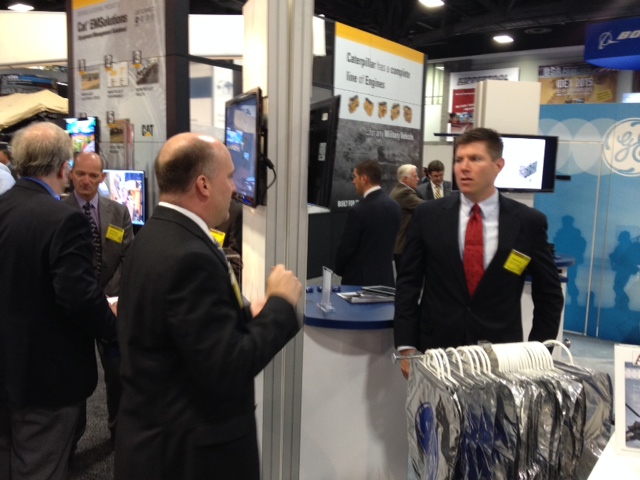 So: Day 2 of AUSA 2014 dawned bright and early, and began with a booth staff meeting to ensure we're all lined up and facing in the same direction. Many folks felt that the show got off to a slow start yesterday—something to do with it being Columbus Day, we're guessing—but there were still plenty of visitors. In fact, from a personal point of view, it seemed like first day attendance was up on last year—but I may be mistaken.
What happened yesterday? Well, meetings are what happened yesterday. If I tell you that AUSA so far—for me at least—has been like jumping into a blender and hitting "Frappe" you'll get the idea. Between 9:30 and 14:00, we had no fewer than seven high level meetings—mostly with Senior VPs and Program Managers, although we were also honored by a visit from a three-star Lieutenant General, who stopped by for what was both a lengthy and very enlightening discussion. Very worthwhile indeed.
An interesting phenomenon I've observed so far is that a number of the folks I'd hoped/planned to meet with didn't show up—but their bosses did. While I was sorry not to see my regular contacts, it was great to get to know more of the people at those companies, and at a higher level. "Call wide and high" is a mantra you'll hear in many sales training classes.
Whoever we've talked to, though, what has been most motivating has been how engaged all of our visitors have been by the concept of The Connected Battlefield, and how GE's products, technologies, expertise and experience are able to turn the theory into a deployable reality. I mentioned yesterday about GE's involvement—leadership—in the Industrial Internet and how the principles of that can apply equally to The Connected Battlefield—and the people we've been talking to "get it." What's more, they appreciate the depth and breadth of GE's commitment to helping the military address its big challenges, and to enabling a more agile, more cost-effective fighting force that's more knowledgeable, better prepared and better maintained.
And speaking of "better maintained"… My colleague (and fellow blogger) Todd Stiefler tells me he's also been having some great conversations with friends old and new at our big prime contractor customers.
As it has thus far with the military end-users, Todd tells me that our message around using SmartSignal to lower operations and maintenance cost on high-value assets really resonated. We've already set a few follow-on meetings as a result, and Todd is hoping to see even more activity as the show progresses. According to Todd, the bottom line seems to be that, whether you're a prime contractor or a military customer, everyone wants more insight out of the vast amounts of data they're collecting—and he says it's great to be in a position to offer it to them.
And if SmartSignal has been a hit, so too have the demonstrations we've been running on the GE booth, which have been attracting a lot of attention and admiring glances—and comments. We're showing the powerful, tiny Tegra K1 doing high-level image-based control and our ground-breaking ADEPT4000 miniature HD image processor, both of which have really captured the imagination of visitors. And, of course, everything we're showing is GE Rugged.
Last night, after the show closed, we were beat—but Tuesday sees us charged and ready. You know: it feels like we got it right.